Knowmads
Knowmads presents: the WTF concert with Gentry Bronson & DJ Feetback! The entrance ticket only costs 5 euro and is a contribution to make this event possible. Don't miss it and register through on our website to make sure you've reserved a seat! http://www.knowmads.nl/event/wtf-concert-gentry-bronson/ ... From next week Gentry will start with his tour through the Netherlands and we are very pleased to announce that he is going to perform for the second time at the Knowmads WTF concert. He will present his new EP 'With a Sign and a Curse - Dutch Pop Classics in English Volume 1', which will soon also be available on Itunes!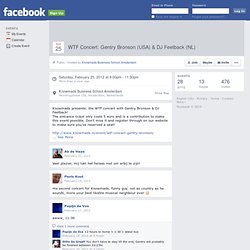 WTF-Concert: Gentry Bronson (USA)
Starts on: 13 February 2012 Monday the 13th 14.00 – 16.00 o'clock. Free entrance Where and for what purposes do designers offer their services? Having spent the last six years in downtown Stockholm studying and working in the design and advertising industry, Petter Hanberger one evening decided to take the night train and leave the capital.
Petter Hanberger on The Suggestion Agency - Knowmads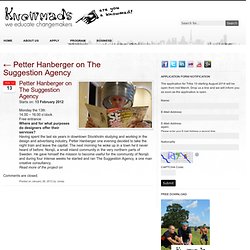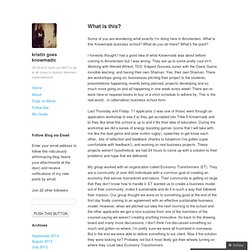 What is this?
Some of you are wondering what exactly I'm doing here in Amsterdam. What is this Knowmads business school? What do you do there?
With the Open Day approaching I think back at the one about six months ago where I was asked to say a few words on what Knowmads was for me or in my world. I tried to just talk about what I had been doing at and with Knowmads but the unavoidable question always surfaces: What can you actually learn then? I recall puzzled gazes to the unavoidable response: "it is all up to you". A few weeks ago I had a cup of coffee with Simon from WordsThatChange who asked me the same question just a bit differently: "What have you learned?" and without accepting the usual response "oh so many things" he got me started (thanks for that, Simon!). The following is the list; no it's more like MY list.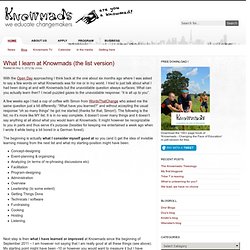 What I learn at Knowmads (the list version) - Knowmads
Knowmads: Potential students working
Language: English Bahasa Indonesia Bahasa Melayu Dansk Deutsch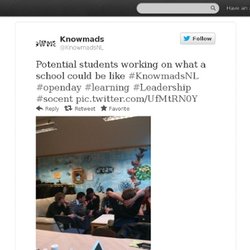 Knowmads Amsterdam
Knowmads in the Wild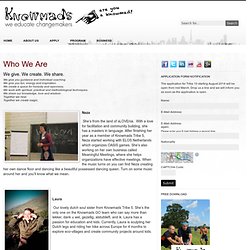 We are a creative, entrepreneurial school.
We give. We create. We share. Neza She's from the land of sLOVEnia.
a blogpost about the knowmadic life by Jonas and Filippa - f*cking co-created and co-authored 2 days before our event for WereldWinkel on the future of fairtrade we thought it was time to run it by our coach. There is this thing with asking people for advice - they tend to respond and have opinions which happened once again.
Just another week @ Knowmads | drop
What's the magic of Knowmads? on Vimeo