Educations
Vil du fremme lokale og sunde fødevarefælleskaber?Kan du se dig selv styrke madkulturen? Vil du sikre beslutningstagere i det offentlige og private en relevant, videnskabelig dokumentation? Så skal du læse kandidatuddannelsen i Integrerede Fødevarestudier! Integrerede Fødevarestudier er en international kandidatuddannelse, der beskæftiger sig med udfordringer inden for sundhed, bæredygtighed og forbrug. Uddannelsen har en helhedsorienteret tilgang til fødevarestudier og beskæftiger sig med hele fødevarekæden - fra produktion og forarbejdning til køkkener, måltider og forbrug.
Beskrivelse af uddannelse (kandidat) - Aalborg Universitet
Thiel Fellows
To overworked high school seniors anxiously filing college applications, we have some good news. You don't have to go. To 19-year-old college students ripe with talent we have even better news: You can leave.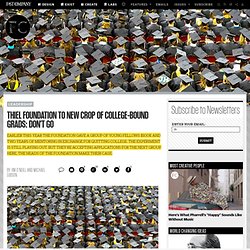 Thiel Foundation To New Crop Of College-Bound Grads: Don't Go
Co-opoly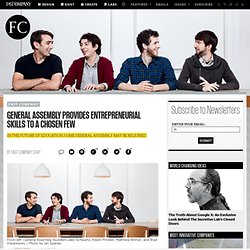 General Assembly Provides Entrepreneurial Skills To A Chosen Few
From left: General Assembly founders Jake Schwartz, Adam Pritzker, Matthew Brimer, and Brad Hargreaves. | Photo by Ian Spanier strong>In a small New York classroom, some 15 students are jammed around a table laden with laptops, Red Vines, and Arizona Iced Tea. The ratio of Macs to PCs is the same as the ratio of men to women: 4 to 1. The instructor, a hipster with brushed-back hair and an earring, is critiquing the class's website layouts--and in the process, advancing one of the most interesting experiments in education today. This is General Assembly, founded in January 2011 in a 20,000-square-foot loft in New York's Flatiron District by four friends in their late twenties and early thirties as a campus for technology, design, and entrepreneurship. It's not a degree-granting college; it's not a high school; it's not a traditional trade school.
Her kan du få indblik i deltagernes refleksioner fra træningen samt mærke stemningen fra de 3 dage. Efter workshoppen har vi sendt nogle spørgsmål ud til udvalgte deltagere omkring hvilke potentialer de ser i at bruge metoderne fra Art of Hosting indenfor folkeskolen. På tegningen herover ses nogle af udtalelserne. "DOJO" er det japanske udtryk for "stedet, hvor vi mødes og praktiserer". Dvs. et trygt forum, hvor man kan fordybe sig i metoder og lærer fra hinandens erfaringer.
FREMTIDENS FOLKESKOLE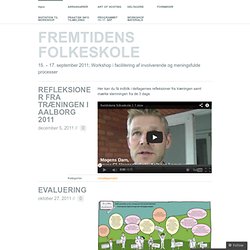 The University Project: My TEDx London Talk - Dougald's posterous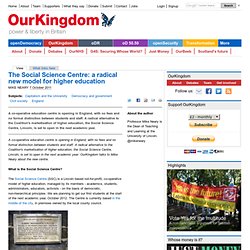 A co-operative education centre is opening in England, with no fees and no formal distinction between students and staff. A radical alternative to the Coalition's marketisation of higher education, the Social Science Centre, Lincoln, is set to open in the next academic year. OurKingdom talks to Mike Neary about the new centre. What is the Social Science Centre? The Social Science Centre (SSC) is a Lincoln based not-for-profit, co-operative model of higher education, managed by its members - academics, students, administrators, educators, activists - on the basis of democratic, non-hierarchical principles.
The Social Science Centre: a radical new model for higher education
The straws that broke this camel's back - philippa young
I arrived at The University of Oxford last Monday morning. Arrived to read a Masters in Migration Studies. I have had a year-long public debate over whether university was a good idea or not. I have decided on the not.
The University Project - Home
OK, people, let's get specific: Out of all the schools in the world, which ones are the most transformational when it comes to imagining a new way to think about teaching and learning in the 21st century? There are a lot of inspiring schools out there, so I want to repeat: which are the most transformational – by which I mean schools that are demonstrating, by policy and practice, 10 or more of the 22 core categories from QED Foundation's Transformational Change Model? What I find so useful about the QED model (scroll down a bit on their home page to see it) is the way it identifies the central pillars of a high-quality education, and then demarcates what each pillar looks like in a traditional, transitional, and transformational setting.
What (& Where) Are the World's Most Transformational Schools?