Educations
Beskrivelse af uddannelse (kandidat) - Aalborg Universitet. Thiel Fellowship. Thiel Fellows. Thiel Foundation To New Crop Of College-Bound Grads: Don't Go. To overworked high school seniors anxiously filing college applications, we have some good news.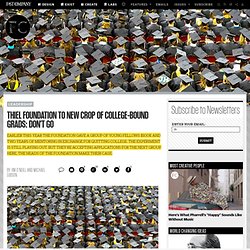 You don't have to go. To 19-year-old college students ripe with talent we have even better news: You can leave.
Online. Co-opoly. General Assembly Provides Entrepreneurial Skills To A Chosen Few. FREMTIDENS FOLKESKOLE. The University Project: My TEDx London Talk - Dougald's posterous. The Social Science Centre: a radical new model for higher education. A co-operative education centre is opening in England, with no fees and no formal distinction between students and staff.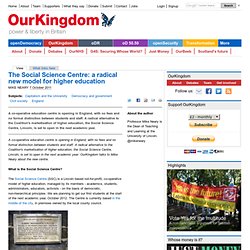 A radical alternative to the Coalition's marketisation of higher education, the Social Science Centre, Lincoln, is set to open in the next academic year. OurKingdom talks to Mike Neary about the new centre. What is the Social Science Centre? The Social Science Centre (SSC) is a Lincoln based not-for-profit, co-operative model of higher education, managed by its members - academics, students, administrators, educators, activists - on the basis of democratic, non-hierarchical principles.
The straws that broke this camel's back - philippa young. I arrived at The University of Oxford last Monday morning.
Arrived to read a Masters in Migration Studies. I have had a year-long public debate over whether university was a good idea or not. I have decided on the not. The University Project - Home. What (& Where) Are the World's Most Transformational Schools? OK, people, let's get specific: Out of all the schools in the world, which ones are the most transformational when it comes to imagining a new way to think about teaching and learning in the 21st century?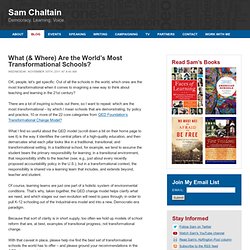 There are a lot of inspiring schools out there, so I want to repeat: which are the most transformational – by which I mean schools that are demonstrating, by policy and practice, 10 or more of the 22 core categories from QED Foundation's Transformational Change Model? What I find so useful about the QED model (scroll down a bit on their home page to see it) is the way it identifies the central pillars of a high-quality education, and then demarcates what each pillar looks like in a traditional, transitional, and transformational setting.
---