Projekte
New York Farm City. Anbeeten.de - Der Gemüseplaner Willkommen. Willkommen auf mundraub.org | mundraub.org. Urbanacker.net. MyVillages.org. Mikel uribetxeberria. – shape+colour. Shape+colour mikel uribetxeberria.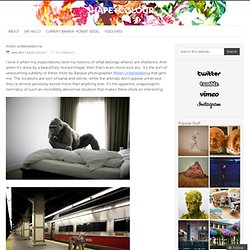 January.7.09 by Jeremy 6 Comments I love it when my expectations (and my notions of what belongs where) are shattered. And when it's done by a beautifully-honed image, then that's even more kick ass. New York's Alternative Public Library. "There are 13,659 payphones on NYC sidewalks, even though there are over 17 million cell phones.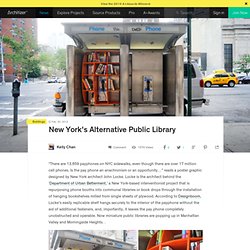 Is the pay phone an anachronism or an opportunity…" reads a poster graphic designed by New York architect John Locke. Locke is the architect behind the 'Department of Urban Betterment,' a New York-based interventionist project that is repurposing phone booths into communal libraries or book drops through the installation of hanging bookshelves milled from single sheets of plywood. According to Designboom, Locke's easily replicable shelf hangs securely to the interior of the payphone without the aid of additional fasteners, and, importantly, it leaves the pay phone completely unobstructed and operable. Now miniature public libraries are popping up in Manhattan Valley and Morningside Heights. . Red Bike Planter by wearableplanter. Do you love riding your bike?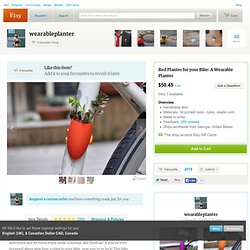 What about plants? Bring your plants on an adventure and let them enjoy some sunshine and fresh air! If you've ever dreamed about attaching a plant to your bike, now you're in luck! Oh I see Red!: Bike Tagging in Melbourne. I walked out of the Melbourne airport with a big stupid smile on my face.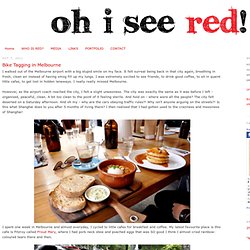 It felt surreal being back in that city again, breathing in fresh, clean air instead of having smog fill up my lungs. I was extremely excited to see friends, to drink good coffee, to sit in quaint little cafes, to get lost in hidden laneways. I really really missed Melbourne. However, as the airport coach reached the city, I felt a slight uneasiness. The city was exactly the same as it was before I left - organised, peaceful, clean.
Magnificent HQ, Carl Turner. La utilización de antiguos contenedores es un recurso que utilizan muchos estudios de arquitectura y diseño en sus proyectos.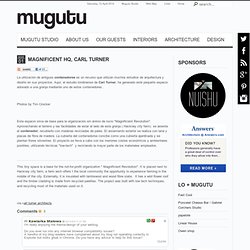 Aquí, el estudio londinense de Carl Turner, ha generado este pequeño espacio adosado a una granja mediante uno de estos contenedores . Photos by Tim Crocker Este espacio sirve de base para la organización sin ánimo de lucro "Magnificient Revolution". Aprovechando el terreno y las facilidades de estar al lado de esta granja ( Hackney city farm) se asienta el contenedor, recubierto con maderas recicladas de palés.
---