PS_Tuto
Initiation à l'utilisation de l'outil plume
Incruster une photo dans un texte
Photoshop Tutorial to Place Photo in a Text | Photoshop CS4 | Tutorials | Brushes | Plugins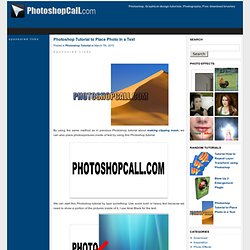 Sponsored Links By using the same method as in previous Photoshop tutorial about making clipping mask , we can also place photos/pictures inside of text by using this Photoshop tutorial. We can start this Photoshop tutorial by type something.
Must Have Tutorials for Photographers - Photo Manipulation 
Disclaimer: We get inspiration in all of our stuff whether that will design Articles (related images) or Roundups (all designing stuff, source files, language codes etc...) and we also give the link back from where we get the images, graphics, source files and language codes (we aren't the magicians to recognize that he's a real owner or he grab or steal it) because we are not the owner of these content(s). If anybody would like to use any images, graphics, source files and language codes or content which we are also using, his duty is to find the real owner of that images, graphics, source files and language codes to use it according to the license (terms and conditions) of that content. If anybody have desire to modification, edition, deletion and print or any kind of use in that stuff he should find the real owner.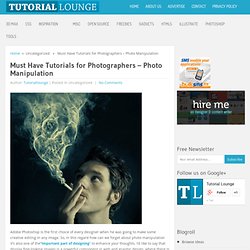 Dans ce tuto Photoshop CS5 en vidéo, nous allons aborder tous les outils disponibles dans Photoshop pour réaliser une sélection . Je vous expliquerai dans une première partie comment fonctionnent tous les outils, puis nous verrons des exemples pratiques, avec le détourage d'éléments sur plusieurs images. Tout au long de cette formation je vous expliquerai dans quel cas utiliser les outils présentés. Le rectangle et l'ellipse de sélection Le lasso La baguette magique La plume La sélection par plage de couleurs La sélection en mode masque La sélection avec les couches
tout sur les sélections avec Photoshop CS5 sur Tuto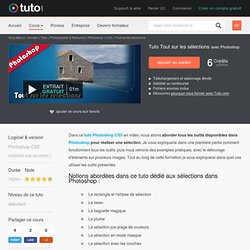 Hall of Fame des tutoriels Photoshop Voici une liste de plus de 60 tutoriels Photoshop les plus populaires sur la toile. Ceux-ci sont triés en catégories. Cette liste a été faite par Vandelay Design Blog que je vous conseille de lire car c'est un très bon blog dans la thématique webdesign, wordpress et web development. The O Series
Hall of Fame des tutoriels Photoshop | Flux de la Passion
70 tutoriels photoshop pour la retouche de la beauté La retouche de la beauté est probablement l'un des domaines d'application les plus populaires dans lesquels Adobe Photoshop est employé intensivement. Il y a deux raisons simples de cela. D'abord, Photoshop offre une série d'outils avancés pour lisser la peau et les cheveux, pour optimiser des proportions de corps et pour souligner quelques beaux détails.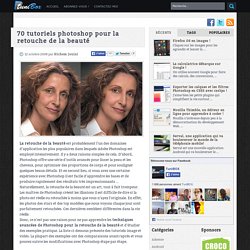 CSP : Séances photos & création de sites web. Tutoriels photoshop ; la retouche photo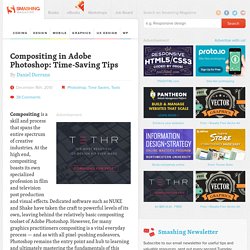 Compositing is a skill and process that spans the entire spectrum of creative industries. At the high end, compositing boasts its own specialized profession in film and television post production and visual effects. Dedicated software such as NUKE and Shake have taken the craft to powerful levels of its own, leaving behind the relatively basic compositing toolset of Adobe Photoshop. However, for many graphics practitioners compositing is a vital everyday process — and as with all pixel-pushing endeavors, Photoshop remains the entry point and hub to learning and ultimately mastering the fundamentals of this important skill. In this article, I'll share some of my own time-saving tips for compositing in Photoshop .
We all have shortcuts that are essential to our daily workflow. A majority of them are staples such as Copy ( Command + C ) and Paste ( Command + V ), but occasionally we stumble upon a shortcut we wish we'd learned years ago. Suddenly, this simple shortcut has streamlined our process and shaved quite a bit of time off our day. Collected here are some lesser known but extremely useful shortcuts. Many of these are not documented in the "Keyboard Shortcuts" menu, and some of them don't even have equivalent menu options. Please note that all of the shortcuts listed below assume that you are using Photoshop CS4 on OS X.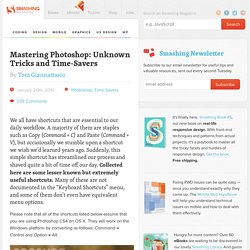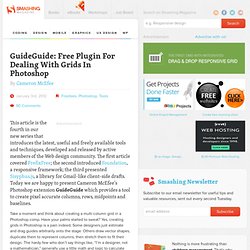 GuideGuide: Free Plugin For Dealing With Grids In Photoshop
This article is the fourth in our new series that introduces the latest, useful and freely available tools and techniques, developed and released by active members of the Web design community. The first article covered PrefixFree ; the second introduced Foundation , a responsive framework; the third presented Sisyphus.js , a library for Gmail-like client-side drafts. Today we are happy to present Cameron McEfee's Photoshop extension GuideGuide which provides a tool to create pixel accurate columns, rows, midpoints and baselines.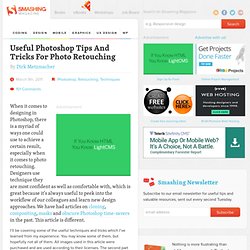 When it comes to designing in Photoshop, there is a myriad of ways one could use to achieve a certain result, especially when it comes to photo retouching. Designers use technique they are most confident as well as comfortable with, which is great because it's always useful to peek into the workflow of our colleagues and learn new design approaches. We have had articles on cloning , compositing , masks and obscure Photoshop time-savers in the past. This article is different. I'll be covering some of the useful techniques and tricks which I've learned from my experience.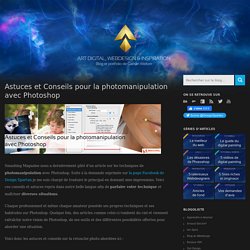 Astuces et Conseils pour la photomanipulation avec Photoshop
Smashing Magazine nous a dernièrement gâté d'un article sur les techniques de photomanipulation avec Photoshop. Suite à la demande exprimée sur la page Facebook de Design Spartan je me suis chargé de traduire le principal en donnant mes impressions. Voici ces conseils et astuces repris dans notre belle langue afin de parfaire votre technique et maîtriser diverses situations . Chaque professionnel et même chaque amateur possède ses propres techniques et ses habitudes sur Photoshop.
Photoshop Tutorials
Create A Scrapbook Alphabet In this Photoshop Text Effect you'll learn to create a simple Scrapbook style text effect that can be used as a stand alone word treatment or converted to individual reusable .png files with a transparent background. Create A 3D Push Pin In this Photoshop tutorial I'll show you how to create a 3D Push Pin using Photoshop Extended's 3D drawing and rendering capabilities. Put your 3D glasses on and enjoy the show!
Sponsored Links In this Photoshop tutorial, I will show how to create a circular text effect. We will make a text that can curve and follow the shape of path line. To be able to do this, we have to use Photoshop CS2 version or newer (such CS4 or the latest CS5 version).
01_Circular_Text Effect
texte en cercles
Adobe Products Top destinations
On crée un tracé, puis outil texte (attendre que le symbole change en s'approchant du tracé), peu importe le sens > écrire le texte souhaité. Ensuite, pour changer de sens, utiliser l'outil "sélection de tracé" après avoir écrit le texte. Il faut placer le point de départ du texte (un petit rond) et le point d'arret (petite croix). Une fois fait, on a un symbole avec une fleche quand on passe près du texte, il faut cliquer en maintenant enfoncé pour faire glisser le texte du bon côté. Dsl je suis pressée j'ai pas pu faire de meilleure explication...
Ecrire en rond