PS_Scripts
Photoshop Automator Actions v.5.0.3 – Now Lion Compatible : Robot Photoshop. Why would I use Automator instead of Photoshop's own actions?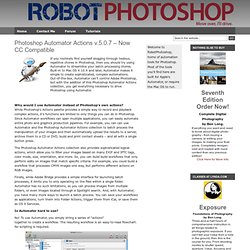 While Photoshop's Actions palette provides a simple way to record and playback complex actions, it's functions are limited to only things you can do in Photoshop. Since Automator workflows can span multiple applications, you can easily automate entire photo and graphics production pipelines. For example, you can can use Automator and the Photoshop Automator Actions collection to batch process the manipulation of your images and then automatically upload the results to a server, archive them to a CD or DVD, build and print contact sheets – and all with a single button press. Scripts Page. Sorry, technical support is not available for my scripts Please report any web-related problems by sending an email to the address listed below.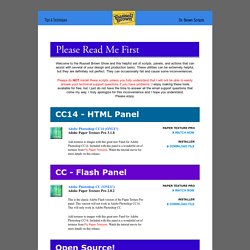 Sorry for the inconvenience, but I will not have the chance to respond to questions relating to these scripts. Please only use them if you feel confident that you can remove them if something should go wrong. My scripts are definitely not perfect and they will NOT work on every system configuration. Use them at your own risk. Rags Int., Inc. Digital Photography. Index of Photoshop CS5/Presets/Scripts. Siva's Photoshop Conditional Action. Photoshop Scripting. Astuces Mac OS X Lion : retrouver la bibliothèque et éjecter les DMG. Avec Mac OS X Lion, Apple entend simplifier l'utilisation de son système desktop.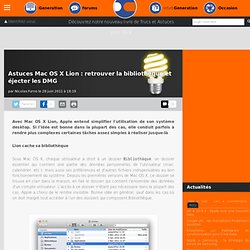 Si l'idée est bonne dans la plupart des cas, elle conduit parfois à rendre plus complexes certaines tâches assez simples à réaliser jusque-là. Lion cache sa bibliothèque Sous Mac OS X, chaque utilisateur a droit à un dossier Bibliothèque, un dossier essentiel qui contient une partie des données personnelles de l'utilisateur (mail, calendrier, etc.), mais aussi ses préférences et d'autres fichiers indispensables au bon fonctionnement du système. Depuis les premières versions de Mac OS X, ce dossier se trouve en clair dans la maison, en fait le dossier qui contient l'ensemble des données d'un compte utilisateur. Index page. It is currently Wed Apr 16, 2014 3:55 am View unanswered posts • View active topics.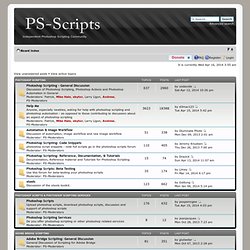 ---