Web 2.0
The 50+ Best Ways to Curate and Share Your Favorite Social Media and News Content. There's so much information online just begging to be curated: news, social media, images, video, websites… the list goes on.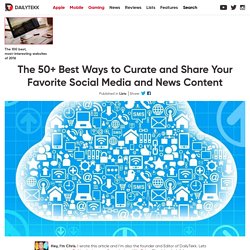 Reading great content from my favorite blogs and websites is one of my favorite down-time activities. It's also an important part of my job as an IT Director because I need to stay on top of the latest trends, announcements and tech news. Just a few years ago, the tools I used to use for reading and consuming content were Google Reader, StumbleUpon, Digg, Delicious… you know all the big names. Also read: The top 100 Twitter Tools of 2012 (Categorized). More recently I've discovered some great new tools to read and share my favorite content which I've included here in this list. Twiducate - Social Networking For Schools. How To Visualize Where Your Tweets Go. This is going to be an epic set of projects for your classroom.
If you're a tweeting teacher, listen up. If you've ever tweeted something and it's gotten retweeted a few times, you probably thought 'hey that's great, a few extra people saw what I wrote' and patted yourself on the back. Are We Wired For Mobile Learning? Because of the proliferation of new technologies, the younger generation today is outgrowing traditional forms of education – remember pencils, chalkboards, textbooks and graphing calculators?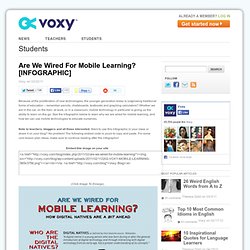 Whether we are in the car, on the train, at work, or in a classroom, mobile technology in particular is giving us the ability to learn on-the-go. See the infographic below to learn why we are wired for mobile learning, and how we can use mobile technologies to educate ourselves. Note to teachers, bloggers and all those interested: Want to use this infographic in your class or share it on your blog? No problem! The following embed code is yours to copy and paste. Lessons Worth Sharing.
How can you use Web 2.0 to enhance your projects? COACHES' CORNER | Dayna Laur In a 21st Century classroom, you would expect to find 21st Century technology.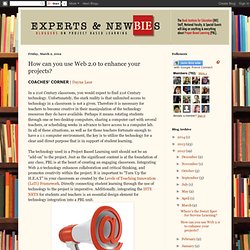 Unfortunately, the stark reality is that unlimited access to technology in a classroom is not a given. The 35 Best Web 2.0 Classroom Tools Chosen By You. 100 Web 2.0 Tools Every Teacher Should Know About 44.24K Views 0 Likes We're always trying to figure out the best tools for teachers, trends in the education technology industry, and generally doing our darnedest to bring you new and exciting ways to enhance the classroom.
But I wanted t... 20 Free and Fun Ways To Curate Web Content. How Can Web 2.0 Curation Tools Be Used in the Classroom? Digital Tools Jeff Thomas "Curation" may be one of the big buzzwords of 2011.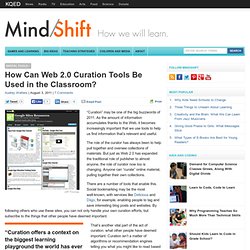 As the amount of information accumulates thanks to the Web, it becomes increasingly important that we use tools to help us find information that's relevant and useful. Digital Delights for Learners.
---