Théorie
Cours de géomatique en ligne de l'université du Colorado. Sample Examination and Study Questions Aerial Photography and Remote Sensing by Shannon Crum -- An introduction to the basic concepts of remote sensing, with emphasis on air photograph interpretation.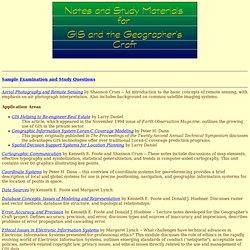 Also includes background on common satellite imaging systems. PPCC - Paris PC Consult (Mapinfo et MapBasic) Page d'accueil. Lien RSS Dernières NOUVEAUTÉS : Société Pour une approche historique du monde contemporain : l'histoire permet de discerner ce qui importe vraiment Message de Moscou : les Russes ne sont pas tous d'accord avec Poutine Le ministère du pléonasme : pourquoi toujours dire deux fois la même chose ?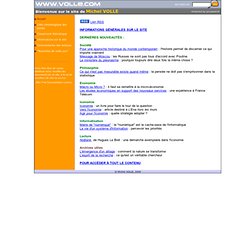 Philosophie Ce qui n'est pas mesurable existe quand même : la pensée ne doit pas s'emprisonner dans la statistique Economie Macro ou Micro ? La chronique de la parallaxe.
Information
Web 2.0 contre Web sémantique : un point de vue philosophique.
---