Participation
Sensibilisation à l'usage des SIG. Sensibilisation à l'usage des SIG pour l'aide à la décision et à la concertation publique : Accès au support multimedia Guide de l'animation.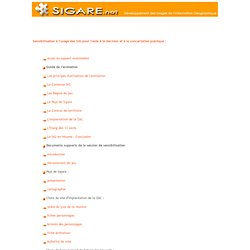 Pachube :: connecting environments, patching the planet. Neogeography « Po Ve Sham - Muki Haklay's personal blog. At the end of 2010, Matt Wilson (University of Kentucky) and Mark Graham(Oxford Internet Institute), started coordinating a special issue of Environment and Planning Adedicated to 'Situating Neogeography', asking 'How might we situate neogeography?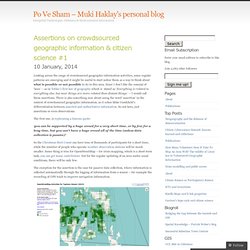 What are the various assemblages, networks, ecologies, configurations, discourses, cyborgs, alliances that enable/enact these technologies?' My response to this call is a paper titled 'Neogeography and the delusion of democratisation' and it is finally been accepted for publication. I am providing below an excerpt from the introduction, to provide a flavour of the discussion: Publications - Chief Kerry's Moose. By Terry N.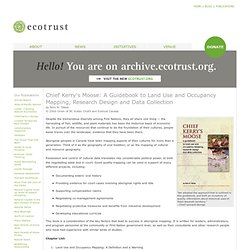 Tobias © 2000 Union of BC Indian Chiefs and Ecotrust Canada "We adopted the approach that is outlined in this guidebook, and built an inventory of quality information about historical uses of Tsleil-Waututh territory. " —Chief Leonard George Despite the tremendous diversity among First Nations, they all share one thing — the harvesting of fish, wildlife, and plant materials has been the historical basis of economic life.
In pursuit of the resources that continue to be the foundation of their cultures, people leave traces over the landscape, evidence that they have been there.
---