Monde
World Glacier Inventory Interactive Map
copyright, disclaimer, and privacy notices Map Services and Viewers have been relocated. Please see http://maps.ngdc.noaa.gov/viewers/ for a list of map viewers and map services that we offer. Questions: undefined@noaa.gov NGDC Home | Contacts | Data | Disclaimers | Education | News | Privacy Policy | Site Map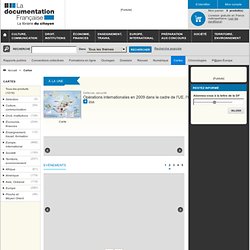 La cartothèque de la Documentation Française
Cartes - La documentation française - La documentation Française [Publicité] Mon panier 0 produit(s) Livraison gratuite en France métropolitaine (voir les conditions)
Enterprise Netmaps est né fin 1997, de la main d'une équipe de directeurs du monde éditorial qui a vu dans la combinaison produit numérique et réseau Internet un moyen d'achever des réductions de coûts importantes en faveur du client. L'entreprise a grandi tout au long de ces années jusqu'à être considérée comme un des principaux acteurs sur le marché européen, avec un capital 100% indépendant. Secteurs La diversité de secteurs où nos cartes numériques et murales sont présentes est très vaste. Ainsi, les principales maisons d'édition, des agences de communication ou de publicité, entreprises de logistique, réseaux hôteliers, immobiliers, grandes surfaces, assurances, ateliers de conception ont requis nos bases de données numériques, cartes murales ou solutions de cartographie personnalisées.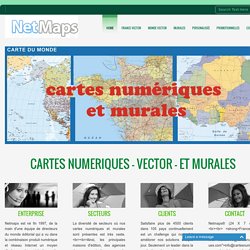 Netmpas, vente de cartes numériques
Site de la cartothèque de l'Université canadienne d'Ottawa
Menu Store | Contact Us | Careers Bringing Our Best to DC See how government gets smarter at the 2014 Esri Federal GIS Conference →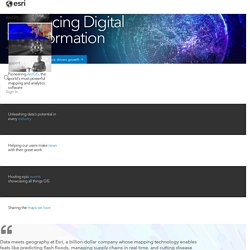 | home (search/browse) | what's new | about | help | Search Oddens' Bookmarks for Browse Oddens' Bookmarks
Oddens' Bookmarks, The fascinating world of maps and mapping !