Intelligence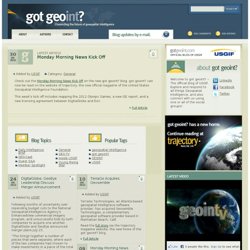 got geoint?
Following months of uncertainty over impending budget cuts to the National Geospatial-Intelligence Agency's EnhancedView commercial imagery program, and unsuccessful bids by both companies to acquire one another, DigitalGlobe and GeoEye announced merger plans July 23. "This brings together a number of pieces that were separate, where each of the two companies had chosen to make investments in a piece of the total puzzle as opposed to making investments across the board," said Walter Scott, founder of DigitalGlobe and now the company's chief technology officer, who discussed the announcement with trajectory via phone. Read the full story via the trajectory magazine website, the new home of the got geoint?
27e Région
TIC & TERRITOIRES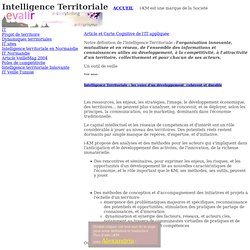 Intelligence Territoriale
Article et Carte Cognitive de l'IT appliquée Notre définition de l'Intelligence Territoriale : l'organisation innovante, mutualisée et en réseau, de l'ensemble des informations et connaissances utiles au développement, à la compétitivité, à l'attractivité d'un territoire, collectivement et pour chacun de ses acteurs. Un outil de veille Voir aussi :
Intelligence territoriale : un concept nécessaire Le concept nous semble bien défini dans le communiqué de presse des Premières Assises Nationales de l'Intelligence Territoriale le 24 novembre 2003 au Casino de Deauville : "Le territoire, bassin de vie et d'emploi bien identifié, est désormais un acteur dont le rôle est d'assurer efficacement son développement et son avenir dans un univers devenu fortement concurrentiel, de plus en plus exposé à de nouveaux risques, mais aussi propice à de nouvelles opportunités. C'est pourquoi, comme toute entreprise performante aujourd'hui, une communauté territoriale ou un "territoire" doit construire et mettre en oeuvre une véritable stratégie à moyen et long terme, traduite en plan d'action global et cohérent, reposant sur un véritable diagnostic partagé, allant au-delà de l'inventaire des forces et faiblesses. Le territoire est le creuset d'activités économiques associant savoir-faire traditionnels et technologies avancées.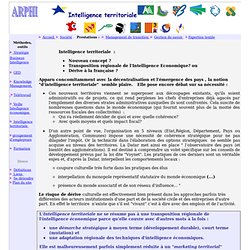 intelligence territoriale
REIT : Réseau Européen d'Intelligence Territoriale