Green building
FlyingConcrete - Structural and Sculptural forms in Light Weight Concrete
I am a designer/builder living in San Miguel de Allende, Guanajuato Mexico and I love concrete. Concrete is a plastic medium and has incredible potential for creating fluid, sculptural forms. I will admit that some of the dullest structures around are made of concrete but dullness isn't a limitation inherent in the material. As the accompanying photographs demonstrate, the builder's imagination may be the greatest limitation of its use as a sculptural medium.
Learn about integrated, optimized systems for water, wastewater, energy, housing, food production, transportation, money and other resources. You can achieve dramatic reductions in ecological and economic cost, by doing what makes sense in the context; optimizing the connections between systems; using the inherently most simple, robust technologies with the best possible implementation; and filling gaps as needed with innovation. Our original innovations have spread worldwide, been adopted into building codes, and copied all over the web. This is the source of over 500 pages of original content free online as well as books which are top in their categories:
Oasis Design: Grey Water Books, Ecological Design Information & Consulting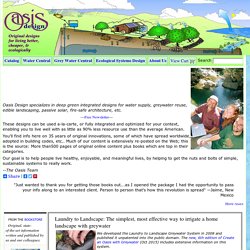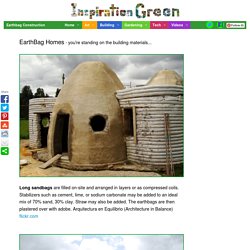 EarthBag Homes - you're standing on the building materials... earthbag home Long sandbags are filled on-site and arranged in layers or as compressed coils. Stabilizers such as cement, lime, or sodium carbonate may be added to an ideal mix of 70% sand, 30% clay.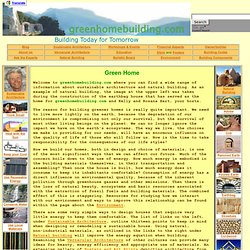 Index
Disclaimer Of Liability And Warranty I specifically disclaim any warranty, either expressed or implied, concerning the information on these pages. Neither I nor any of the advisor/consultants associated with this site will have liability for loss, damage, or injury, resulting from the use of any information found on this, or any other page at this site. Kelly Hart, Hartworks, Inc. Site Map STORE Privacy Policy