Video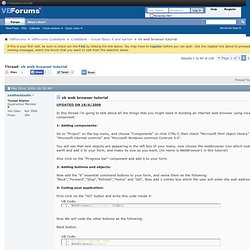 In this thread i'm going to talk about all the things that you might need in building an internet web browser using visualbasic component. Go to "Project" on the top menu, and choose "Components" or click CTRL-T, then check "Microsoft html object library" and "Microsoft internet controls" and "Microsoft Windows common Controls 5.0". You will see that new objects are appearing in the left box of your menu, now choose the webbrowser icon which looks like an earth and add it to your form, and make its size as you want, (its name is WebBrowser1 in this tutorial) Also click on the "Progress bar" component and add it to your form.
vb web browser tutorial
Welcome to the Live Sports page. You can find Live and Free Sports Matches here! Click on top for a category in which you want to see a match. Then click the match itself or the text live to see which channels are broadcasting it, those channels will be available 1 hour before kickoff. This is due to the hard work we do with searching, info takes time to find so we keep it so no other sites copy it.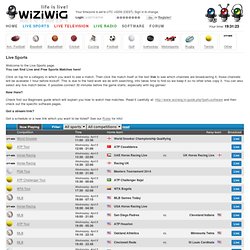 WiZiWiG
YouTube
Free
Red
Player
See all the most popular catch up » Thu 2nd Jan 9.00 PM Thu 2nd Jan 8.30 PM Wed 1st Jan 7.30 PM Thu 2nd Jan 8.00 PM Thu 2nd Jan 7.00 PM Wed 25th Dec 8.30 PM Mon 30th Dec 7.30 PM Fri 3rd Jan 9.25 AM Wed 1st Jan 7.00 PM Tue 24th Dec 8.00 PM Sun 29th Dec 8.00 PM Tue 31st Dec 7.00 PM Fri 27th Dec 8.30 PM Tue 24th Dec 10.00 PM Fri 27th Dec 7.30 PM See all the most popular rentals »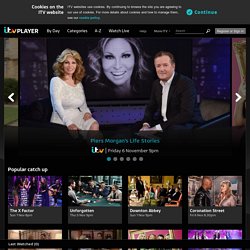 ITV1
4oD
Parental Control HistoryCloseSign in to get the most from 4oD History View your own personal 4oD history, useful if you share a computerKeep track of the last 50 shows you watched or started watchingResume unfinished shows from the point you stopped watching PlaylistCloseStart creating your 4oD Playlist today Look out for the add to Playlist button as you browse the siteUse the button to save the 4oD episodes you want to watch in one placeSave time searching. Never forget that episode you wanted to watch. FavouritesCloseStart using Favourite Shows today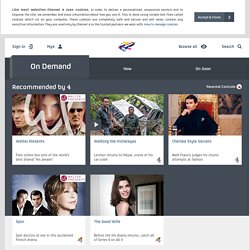 Fast Pass TV
Dexter
The Mentalist
Breaking Bad
The Big Bang Theory
The Walking Dead
Criminal Minds
NCIS
The Sopranos
Tv-Links
The Sopranos
BBC iPlayer