Android
Using the Android Debug Bridge (adb) Using the Android Debug Bridge (adb) - Tutorial Copyright © 2009, 2010, 2011, 2012, 2013 Lars Vogel Using the adb tools with Android.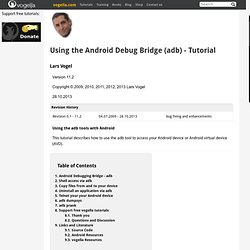 What is ADB, and how do I use it? | Mobile. Look at any tutorial for rooting an Android device, and one set of initials is sure to come up: ADB.
Veterans to Google's mobile platform will let it roll off their tongues as if it's everyday language, but those new to Android hacking can get a little tripped up. What the $%#@ is ADB? How to Develop Simple Bluetooth Android Application To Control A Robot Remote. The wireless-networking standard technology called Bluetooth has quietly become an innovative way to control a robot and a technology that replace the cables.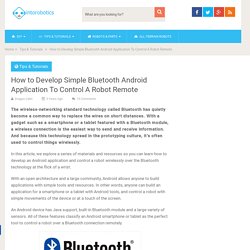 Using an Android device to control a robot over Bluetooth is another step forward in remote robotics control by sending commands with the flick of a wrist. Using a set of tutorials and resources, you can learn how to develop Android applications to control a robot remote over Bluetooth technology. Tutorial: Intro to Developing Bluetooth Smart Applications for Android. Hi, my name is Dave Smith.
I'm a Senior Android Developer with Double Encore, an embedded Android enthusiast, and I teach Android classes for NewCircle. Today I'd like to talk about the Bluetooth Low Energy (or LE) APIs now available in the Android framework, and show you how easy it is to add some really interesting capabilities to mobile applications using this technology. Bluetooth LE was introduced to the core Android framework in 4.3, or API Level 18. Prior to this, there were several OEM-specific SDKs providing this behavior, but we will not be going into detail on those here. Bluetooth GATT Basics. Bigamil/RetroRat. Training. Android Masterclass: Building a simple Android app.
Albert Einstein: The Alpha geek and the inspiration for the application we'll construct this chapter (inset).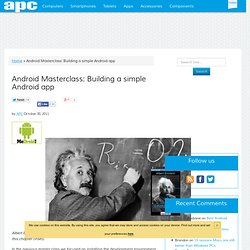 In the previous master class we focused on installing the development environment and built a rather simple Hello World application. In this class we will focus on the Android conventions and construct a slightly more interesting application – one with images and buttons. The creators of Android have focused on developing forward-looking frameworks with a focus on ensuring developer productivity.
---