Cymru Celts
Welcome to Llandeilo. Ancient and Medieval Wales. During the last ice age people hunted reindeer and mammoth in what is now Wales.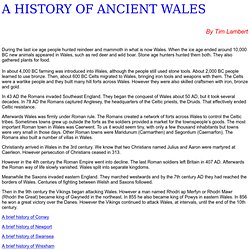 When the ice age ended around 10,000 BC new animals appeared in Wales, such as red deer and wild boar. Stone age hunters hunted them both. They also gathered plants for food. In about 4,000 BC farming was introduced into Wales, although the people still used stone tools. Wales - the ancient Celtic heritage. The National Eisteddfod of Wales is Europe's oldest and largest festival of culture, literature and indigenous music; its origins backdate to the 12th Century.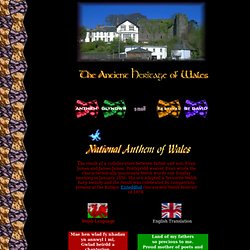 Every August, the attraction of Wales's National Eisteddfod draws 170,000 visitors over a week long event, which is best described as a Welsh cultural and artistic Olympics, a celebration of the Welsh love of art, literature and pageant. Throughout the year, local and regional Welsh Eisteddfodau qualify a total 6,000 competitors for the national event, which range from poets to choirs and musicians to artists. While the Eisteddfod is held at towns and cities alternately in northern and southern Wales, the institution is exclusively Welsh language orientated and provides a high profile focus and convergence of the Welsh speaking communities of Wales.
Welsh mythology. The prose stories from the White and Red Books are known as the Mabinogion, a title given to them by their first translator, Lady Charlotte Guest, and also used by subsequent translators.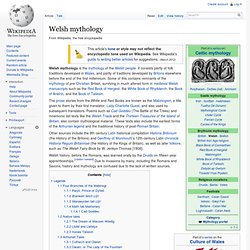 Poems such as Cad Goddeu (The Battle of the Trees) and mnemonic list-texts like the Welsh Triads and the Thirteen Treasures of the Island of Britain, also contain mythological material. These texts also include the earliest forms of the Arthurian legend and the traditional history of post-Roman Britain. Other sources include the 9th century Latin historical compilation Historia Britonum (the History of the Britons) and Geoffrey of Monmouth's 12th-century Latin chronicle Historia Regum Britanniae (the History of the Kings of Britain), as well as later folklore, such as The Welsh Fairy Book by W. Jenkyn Thomas [1908]. Welsh history, before the Romans, was learned orally by the Druids on fifteen-year apprenticeships.
Rhys ap Thomas. Soldier, knight, landowner, king-maker (1448-1525) The tomb of Rhys ap Thomas (1448-1525) in St.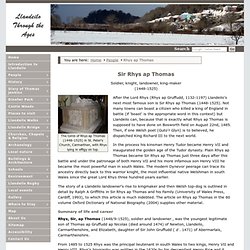 Peter's Church, Carmarthen, with Rhys lying in effigy on top.
---