Tech
Mac Rumors: Apple Mac iOS Rumors and News You Care About
Earlier this week, Amazon launched its Fire TV media streaming box, entering a crowded market with devices from Roku, the Chromecast from Google and the Apple TV. With the Fire TV delivering a number of features rumored for a future Apple TV, reactions to Amazon's new box have certainly been of interest to Apple fans. With an immediate launch for Fire TV, the device has already landed in the hands of reviewers and at popular repair shop iFixit, which promptly tore the device down. Early analysis of the Fire TV suggests the device has market-leading hardware that is hindered by less-than-perfect software. On the hardware front, iFixit confirms the Fire TV is a powerhouse with a quad-core, 1.7 GHz Qualcomm Krait 300 processor, Qualcomm Adreno 320 dedicated GPU, 2 GB LPDDR2 RAM clocked at 533 MHz, 8 GB internal storage, 802.11a/b/g/n MIMO Wi-Fi and Bluetooth 4.0.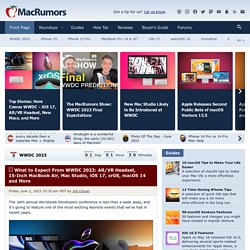 iOS 7.1 untethered jailbreak coming soon, yes you read it right. Since releasing iOS 7.1 with it's new features few weeks ago, many jailbreak fans were not interested in upgrading their device to iOS 7.1 which is unjailbreakable so far. But today we came with new significant milestone regarding iOS 7.1 jailbreak. The well-known iPhone hacker Pod2g confirmed few moments ago that he will release iOS 7.1 jailbreak, which means that he already achieved the mission.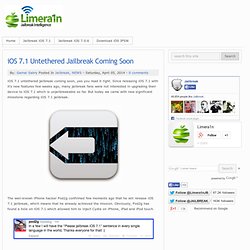 Jailbreak 4.3.1 / 4.3.2 / 4.3.3 /iOS 5 Untethered - iPad 2 Jailbreak
Top 10 Cydia Repos (Sources) of 2011 | Jaxov
Here is a list of top 10 Cydia sources for year 2011. With these cydia repositories, you can find, download and install almost any free, premium or cracked Cydia apps on your iPhone, iPod Touch and iPad. By adding these sources to Cydia, you can access hundreds or even thousands of HD themes, games, ringtones and tweaks for free.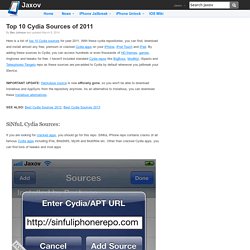 Engadget
The 1 percent have long had smartphones from Porsche and Vertu to quench their high-end thirst, but when it comes to dual-SIM handsets, the elite have had to settle for something a little more ordinary. For those in need, Gresso created Azimuth, the first dual-SIM luxury handset. Starting at $2,000, the phone is made of titanium, with both the keys and logo crafted out of 18K or white gold. Since appearances are all that matter, you're getting some pretty low-end specs under the hood, including 2GB of "internal memory," a 1.3-megapixel camera, Bluetooth 2.0 and a tiny 1,100mAh battery.
TUAW - The Unofficial Apple Weblog