Firefox
Flashblock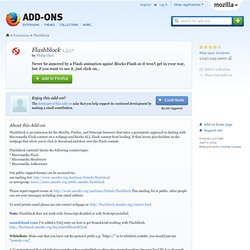 Please report support issues at: http://www.mozdev.org/mailman/listinfo/flashblock This mailing list is public, other people can see your messages including your email address. To send private email please use our contact webpage at: http://flashblock.mozdev.org/contact.html Flashblock 1.5.14 doesn't work on Firefox 2.0.0.x. For Firefox 2.0 users.
Beef Taco (Targeted Advertising Cookie Opt-Out)
There is a race condition on shutdown which can lock up Firefox if both Taco and Beef Taco are installed. For the time being, do not have both of these installed at the same time. ==[ Thanks To PrivacyChoice! ]============= Thanks to PrivacyChoice for updated cookie lists! Check out some of their privacy add ons here: http://www.privacychoice.org/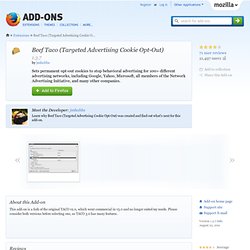 Adblock Plus
Adblock Plus Pop-up Addon
Allows you to right-click any text field on any website, and paste a free, one-time e-mail address from Spamavert.com. These disposable addresses comes in handy when registering on websites you don't trust. The extension also opens the Spamavert.com mailbox and waits for new e-mail for the address it generated for you. New in this version, the plugin also remembers the addresses it has generated, and automatically subscribes to their RSS feeds.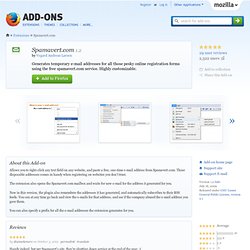 Spamavert.com
Ghostery® Privacy StatementLast modified and effective as of: 12 December 2013 This Privacy Statement describes our information practices for the Ghostery browser extension. Ghostery is a free downloadable browser extension that helps you to see what companies are tracking you ('Trackers') on any given website. It is owned by Evidon, Inc. ('Evidon'), and can be downloaded onto your computer, subject to the End-User Licence Agreement ('EULA').
Ghostery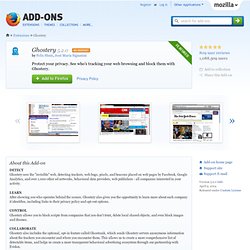 PrivacySuite
Abine Inc. is committed to collecting none, or the minimum information necessary for operation, and handling responsibly any information and data we do collect, whether personal information or non personal browsing and site usage data. We have designed our Privacy Policy and our Data Usage Policy consistent with the following principles (based on the Creative Commons privacy policy): 1.
LastPass Password Manager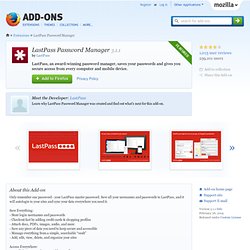 Privacy StatementYour privacy is critically important to us. LastPass has a few guiding principles: * We don't allow you to send us critically important information like your password; instead your LastPass master password is used locally to encrypt the important data that's sent to us. * We don't ask you for personal information unless we truly need it. * We don't share your personal information with anyone except to comply with the law, develop our products, or protect our rights. * We don't store personal information on our servers unless required for the on-going operation of one of our services.