Browsers
Want To Open A Website In Another Browser? Just Drag And Drop It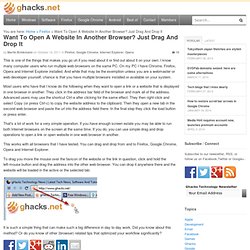 This is one of the things that makes you go uh if you read about it or find out about it on your own. I know many computer users who run multiple web browsers on the same PC. On my PC I have Chrome, Firefox, Opera and Internet Explorer installed. And while that may be the exemption unless you are a webmaster or web developer yourself, chance is that you have multiple browsers installed or available on your system. Most users who have that I know do the following when they want to open a link or a website that is displayed in one browser in another: They click in the address bar field of the browser and mark all of the address.
Google Chrome
Add-ons for Pale Moon
Pale Moon - portable!
You can now take Pale Moon anywhere with you! You've enjoyed Pale Moon at home, or at the office. You've wondered if you could use it elsewhere: in a library, on a public computer, in a cybercafé... You need something portable, that is as simple as plugging in your USB stick and running your favourite browser, with all your bookmarks and passwords at your fingertips? Then here is the answer: Pale Moon Portable!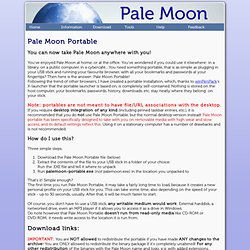 Chromium is the open source web browser project from which Google Chrome draws its source code. [ 3 ] The browsers share the majority of code and features, though there are some minor differences. The Chromium Project takes its name from the element chromium , the metal from which chrome plating is made. [ 4 ] Google's intention, as expressed in the developer documentation, was that Chromium would be the name of the open source project and that the final product name would be Chrome. [ 5 ] However, other developers have taken the Chromium code and released versions under the Chromium name. These are listed under community builds . One of the major aims of the project is for Chrome to be a tabbed window manager, or shell for the web, as opposed to it being a traditional browser application. The application is designed to have a minimalist user interface .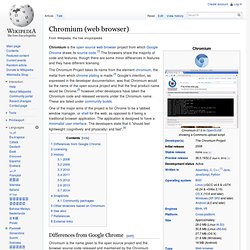 Chromium (web browser)
Download Chromium
Home | Chromium Portable