Education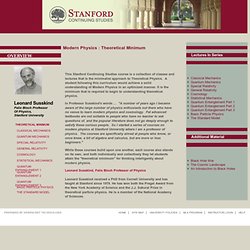 Stanford Continuing Studies :: Course :: PHY 24 - 32 W
This Stanford Continuing Studies course is a collection of classes and lectures that is the minimalist approach to Theoretical Physics. A student following this curriculum would achieve a solid understanding of Modern Physics in an optimized manner. It is the minimum that is required to begin to understanding theoretical physics. In Professor Susskind's words ...
iPad for Teaching & Learning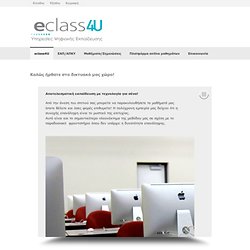 Φροντιστηριο ΕΑΠ | Mαθηματα και εργασιες για φοιτητές ΔΕΟ - ΦΥΕ - ΑΕΙ - ΤΕΙ | eclass4u.gr
Καλώς ήρθατε στο δικτυακό μας χώρο! Αποτελεσματική εκπαίδευση με τεχνολογία για σένα! Από την άνεση του σπιτιού σας μπορείτε να παρακολουθήσετε τα μαθήματά μας όποτε θέλετε και όσες φορές επιθυμείτε!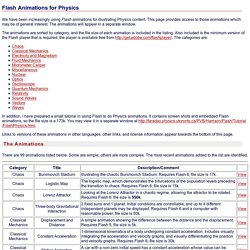 We have been increasingly using Flash animations for illustrating Physics content. This page provides access to those animations which may be of general interest. The animations will appear in a separate window. The animations are sorted by category, and the file size of each animation is included in the listing. Also included is the minimum version of the Flash player that is required; the player is available free from http://get.adobe.com/flashplayer/. The categories are:
1ο έτος σπουδών ΦΥΕ14 Εισαγωγή στις Φυσικές Επιστήμες ΦΥΕ12 Γενική και Aνόργανη Xημεία ΦΥΕ10 Γενικά Μαθηματικά Ι 2ο έτος σπουδών ΦΥΕ24 Kλασική Φυσική Ι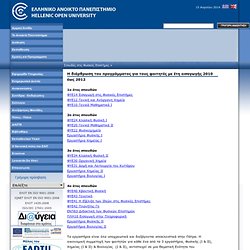 ΕΑΠ - ΕΛΛΗΝΙΚΟ ΑΝΟΙΚΤΟ ΠΑΝΕΠΙΣΤΗΜΙΟ