Web Design
Get flash to fully experience Pearltrees
Everyone lives at least a little bit of their life on the web, and whether you develop web pages for a living, want to create a nameplate web site, or simply want more control over how your comments show up on web sites, having an understanding of HTML at your command is invaluable. With that in mind, in our first lesson on how to make a web site, we're covering the top-level basics of HTML—the predominant markup language of the web. Nowadays it's easy to put together a web presence using social media and a personal landing page, but if you want to actually make your own web site you're going to need to learn HTML and CSS. Fortunately, we can help. The video above will get you set up with a text editor, walk you through the basic structure of an HTML document, and introduce you to a few things about HTML you're going to want to know right away.
This video is the VERY basics of what HTML and CSS is, for the absolute beginner. HTML and CSS files are, quite literally, just text files. You don't need any special software to create them, although a nice code editor is helpful. You can create these files on any computer and use your web browser to preview them during development. You can think of HTML as the content of your website: a bunch of text and references to images wrapped in tags. CSS is the design of your website.
Web 2.0 is a term coined by O'Reilly describing the new trends in design and development appearing across a flood of innovative websites. This tutorial will show you how to create some of the more popular "Web 2.0″ design effects using Photoshop. Gradients The reflective or glass effect was first popularized by Apple . There have been many tutorials about creating Apple's "Aqua Buttons" and this is a similar effect.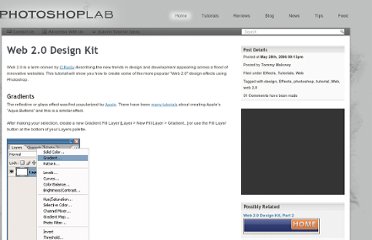 Web 2.0 ?!