Europe
England riots: Government mulls social media controls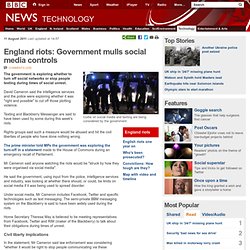 11 August 2011Last updated at 14:57 Curbs on social media and texting are being considered by the government The government is exploring whether to turn off social networks or stop people texting during times of social unrest. David Cameron said the intelligence services and the police were exploring whether it was "right and possible" to cut off those plotting violence. Texting and Blackberry Messenger are said to have been used by some during this week's riots. Rights groups said such a measure would be abused and hit the civil liberties of people who have done nothing wrong.
U.K. police still tracking down looters
London Riots - Malaysian student mugged.
Jon Stewart Tackles The News Of The World Scandal | Defamer Australia