BlogLIST
Christ and Pop Culture
| Rhett Smith:. Transitioning Life's Journey – 2011 Focus:. Pastors, Marriages, Young Adult Transition |
Pastor's toolBox
As a church growth and funding consultant, I receive phone calls and emails weekly from desperate and dying churches, and the question that I refrain from asking each of them is, "Why did you wait so long to do something?" Are you watching your church membership wither away? Just watching… a very long and drawn out death… slowly draining away the last bit of energy and resources. You may know the main problems causing decline… you may even know the solutions. But by delaying action, solutions now sometimes seem like big problems and problems like simple solutions. So instead of digging out… you avoid conflict, dig in on the causes, and hasten the death toll.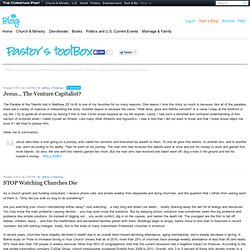 Pastors
learning my lines. . .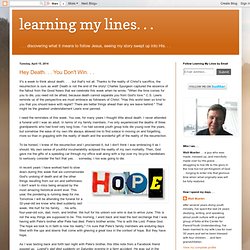 I finally sat down to address my income tax prep procrastination last Tuesday evening. In the process of gathering, sorting, and adding up receipts I got to thinking about our charitable giving. Now I know that when it comes to giving, the left hand shouldn't know what the right hand is doing, but what transpired on Tuesday evening was significant enough to mention. While I was sorting and recording the numbers for 2013, I paused to think about our giving to World Vision. Of all the causes that we support, the one that has remained a constant recipient of our support is World Vision.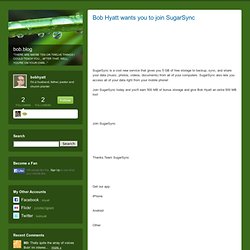 A couple of months ago, I participated in a little conference here in PDX, co-sponsored by the Ecclesia Network and North West Church Planters. It was called Rain and Shine, and the point was to draw together, for two days, a group of church planters who would talk about the brightest and darkest moments they had experienced in Church planting. Everyone got 14 minutes to speak. Here's an edited version of what I presented- my highest and lowest moments in being a church planter. Probably like a lot of you, I came to church planting through the route of dissatisfaction and hurt.
bob.blog
TheOOZE beta | evolving spirituality.
C3 2014 – recap February 27, 2014 | By Ed Young A Conversation with a True American Hero February 2, 2014 | By Ed Young Today marks exactly one year since American hero and Navy SEAL Chris Kyle was killed.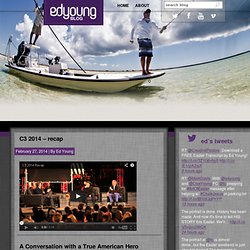 Ed Young Blog
This list is brought to you by Fellowship One: There are thousands of ministry blogs to read, but do you ever wonder which ones everyone else is reading? I do, which is why I have compiled a list of the world's most read Christian faith blogs.
Top 200 Church Blogs | churchrelevance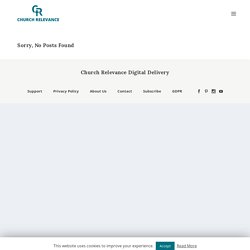 Ron Edmondson | The Blog of Leader, Pastor, and Church Planter Ron Edmondson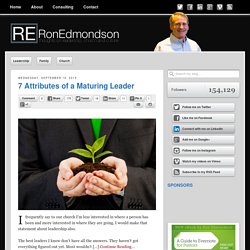 One single act of courage can change a life…often many lives. No doubt, if you live a "normal" life there will be decisions you have to make that take courage. You will often have to walk by faith, be willing to risk everything, and trust God for the results, which [...] Continue Reading… I posted recently on what happens when I'm tired.
Acts 29 Network: Seattle, WA > Homepage
April 17, 2014 Below are links to the content from a recent Acts 29 regional event. To find more content like this, please explore our resource library. Go & Make Disciples of All NationsKarori, New ZealandNovember 23, 2013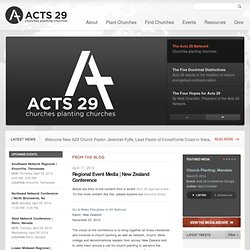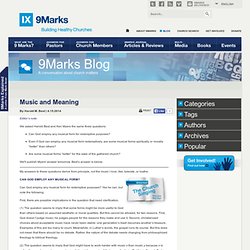 Editor's note: We asked Harold Best and Ken Myers the same three questions: Can God employ any musical form for redemptive purposes? Even if God can employ any musical form redemptively, are some musical forms spiritually or morally "better" than others?
Building Healthy Churches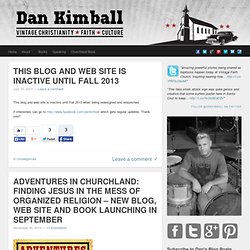 (I am writing this out and linking to this from an email I will be sending our church this week. So a lot of this post is for Vintage Faith Church with the upcoming teaching schedule). We finished our 4 week teaching series Everyday Missionary on Sunday. I did a wrap up about the how the dream of our church is to be a missionary-community-training-center-base here in Santa Cruz. It was stressing that church buildings are good and can be used for mission, and that Sunday teaching is good and important and that we can have good music and bands and lighting etc. but that those things aren't the primary goals, but only part of the whole missional strategy to see healthy and new disciples made. I have seen some who tend to go to an extreme and say we don't need buildings, or that we shouldn't have preachers or bands on Sundays or anything "attractional".
Dan Kimball: Vintage Faith
Want to contribute to my next book? A few years ago, I published the book Everyone Communicates, Few Connect. If you were a blog reader back then, you'll remember that we all worked together here on the blog to fine-tune the content for that book. Many of you submitted stories on communication, which were featured in the book. Well, now I'm working on my next manuscript, for the book to be released in the fall of 2014. And I would love to have your help in creating the content.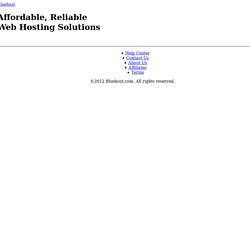 A sermon on Habakkuk: Options for Anxiety I was asked to preach on this passage (obscure to some, well-known to others) at a gathering for preachers in Minneapolis last year. I thought it might be of some encouragement to folks who won't hear a "live" sermon today…. Habakkuk 2:12-20. "What's the Big Story?" We woke up this morning in a heap of trouble.
Brian McLaren
Hey friends, blog readers, supporters, critics, stalkers, and everyone in between: This week (October 20), I'll be turning…43-years-old. Yes, that's not a typo.
eugene cho
TonyMorganLive.com | Trying to be strategic.
by Jay Mitchell, Executive Search Consultant, Vanderbloemen Search Group In our work as search consultants at Vanderbloemen Search Group, much of the focus of our job is identifying people who have the potential to be great long-term team members for our clients. Hiring great people is a great first step, but it's just the beginning. Once you have a great team member who is producing excellent work and serving effectively, the next – and more important – challenge will be retaining them for the long haul. In interviews,
Worship Matters | worship leader, worship blog, advice for worship leaders and pastors.
Pomomusings – Technology, Theology & Ministry
adrianwarnock.com —
Websites
Fall to Grace - TGC Reviews
Kingdom People
churchrelevance