Johnnyangeladvocacygroup.net
PLA source says number of troops involved is unusually rare Paul Joseph WatsonInfowars.com January 16, 2014 In what PLA sources are describing as an unusually high figure, China has mobilized 100,000 troops to take part in a border exercise as part of preparations for a Korean Peninsula crisis. "The drill is a normal military exercise to train soldiers to fight in winter and long-range conditions, according to national state broadcaster China Central Television (CCTV).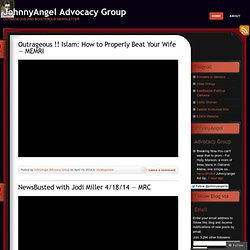 JohnnyAngel Advocacy Group - Daily Digest of the Most Important News Stories on the Web That May Affect YOU
Putting a bumper sticker on your car is a great, and annoying way, to alert the world about your political views. Apparently, it's also a great way to declare that you're racist. A photograph of a racist Obama bumper sticker has been making its way around the internet this week. The bumper sticker shows the Obama campaign logo crossed out next to the words "Don't Re-Nig in 2012."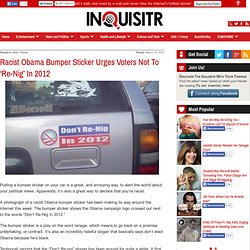 Racist Obama Bumper Sticker Urges Voters Not To 'Re-Nig' In 2012
9/11 and the global consequences | Deutsche Welle
Friday, 19 August 2011 22:12 IPT News Al-Qaida's new senior leader is trying to co-opt Syria's revolution with a message of anti-Americanism and hate, in a new video translation recently released to jihadi forums. "Peace be upon you while you teach the rebellious, treacherous, traitorous system severe lessons on how to resist him, his corruption and treachery, his compliance in favor of the global hegemony and his desertion of Golan," Ayman al-Zawahiri says in his attack on Syrian dictator Bashar al-Assad. "Peace be upon you, O champions and heroes! Indeed you have presented a great example, teaching your Arab and Islamic Ummah lessons about sacrifice, resilience and fighting injustice."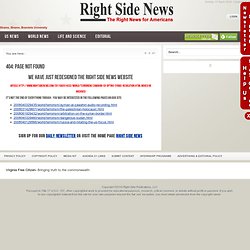 Zawahiri: Co-opting Syria's Revolution | Terrorism Right Side News
West: I'll lead you off 'plantation' - Jennifer Epstein
Rep. Allen West says he is a "modern-day Harriet Tubman" who wants to lead black voters away from the "plantation" of the Democratic Party. There is a "21st century plantation" of African-American voters unwaveringly supporting Democrats, but the freshman Republican from Florida said Wednesday night that he is out to change that. Continue Reading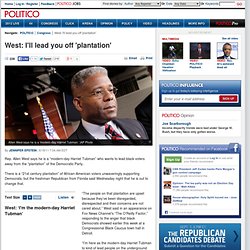 Threat Matrix - By The Long War Journal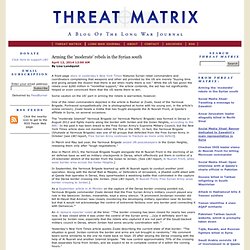 December 29, 2013 1:47 PMBy Thomas Joscelyn Editor's note: This article was originally published by Thomas Joscelyn at The Weekly Standard. Thomas has written extensively on the Benghazi attack and Ansar al Sharia and al Qaeda's involvement both at The Long War Journal and The Weekly Standard.
The "All Dulles Area Muslim Society" (ADAMS) is the spiritual home for more than 5,000 families in the Washington DC area, and as such one of the largest mosques in America. ADAMS, which claims on its website to have "an excellent relationship with the FBI, the Department of the Treasury, the Department of State, and various state and local law enforcement agencies," is keen to let everyone know that it rejects extremism and terrorism, and it also supports gender equality, co-operation with other religious communities, and charity work. Getting that message out is essential given the abuse directed at the Muslim community since 9/11. On the very night of the attacks, people broke into the mosque used by ADAMS at the time, and set fire to property inside.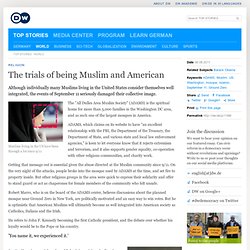 The trials of being Muslim and American | 9/11 and the global consequences | Deutsche Welle | 08.08.2011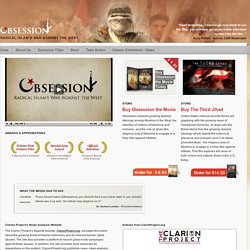 Radical Islam Activism ClarionProject.org, Clarion's flagship education tool, was developed to spread awareness about the threat of Islamic fundamentalism in the United States and to provide practical response tools. The user-friendly website features the latest updates and developments from major news sources as well as streaming content, including informative webinars and guest speakers.
Obsession - Radical Islam's War Against The West
order
July 19, 2011|2:56 pm The Republican Party has long been the party to tout the "family values" and "faith" cards. As the party that courts the Christian Right, it would no doubt be profitable to do so.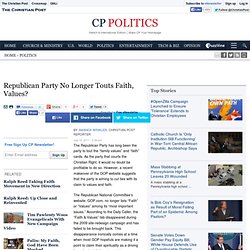 Republican Party No Longer Touts Faith, Values?
3D Screensavers | Download Popular Screensavers
With over 3,700 answers to frequently asked Bible questions published online, approximately 75% of the questions we are asked already have answers available to you instantly. We offer several options for finding the answers to your questions. You can search our site, which does a search of all of our articles based on the search terms you enter. You can browse our Top 20 most common Bible questions and Top 20 most visited articles, which together account for around 15% of the questions we are asked.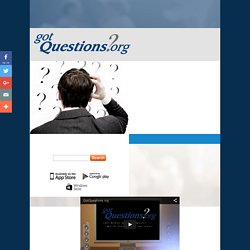 West: There's a Very Ugly History Here ... 'I Stand By What I Said!' - Allen West - Fox Nation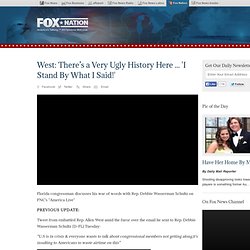 Watch the latest video at <a href="http://video.foxnews.com/">FoxNews.com</a> Florida congressman discusses his war of words with Rep. Debbie Wasserman Schultz on FNC's "America Live" Tweet from embattled Rep. Allen West amid the furor over the email he sent to Rep. Debbie Wasserman Schultz (D-FL) Tuesday:
Future Congress
"There have been many hundreds of books for and against Israel but no volume presenting the essential information about its domestic politics, its society, as well as its cultural life and its economy. This gap has now been filled."—Walter Laqueur, author of A History of Zionism
My Interview on Obama Policy toward Israel and Other Issues
» New Special Report Signs of the Blood Moon - Now Available! With the convergence of so many different prophetic themes happening at this time we felt a closer look at the subject of the "Blood Moon Tetrads of 2014 - 2015" should be examined in it's larger prophetic context. As such we have developed a special report to do this entitled "Signs of the Blood Moons". Within the next 2-3 years we are looking at many significant developments on the prophetic stage that tie into this time frame and as such would seem to confirm the significance of these "signs in the heavens". It's not just one single event - but multiple events:
Prophecy News Watch - Biblical Prophecy in the News
Top U.S. Military Officer: Iran Is In a Shooting War With America. OK, Where's the Policy Response?
By Barry Rubin Let's pretend we are living in a sane and normal era with a sane and normal U.S. government. In that context, read the following paragraph from the Wall Street Journal and then let's think out loud about it.
US and Mexico resolve trucking dispute, but how will it affect US roads?
US teamsters have long warned that inviting Mexican 18-wheel rigs onto American highways was like giving a free pass to violent drug traffickers to smuggle their goods across the border. Skip to next paragraph Subscribe Today to the Monitor
Bombs in implants? We're letting the terrorists win - ComPost
Beware of Dr. Jihad
Gun-Running Timeline: How DOJ's 'Operation Fast and Furious' Unfolded
Critics Say Soros Trying To Stack the Courts - George Soros
Stansberry's Investment Advisory
Mainstream media demoralization
Pajamas Media » Seeing the Light
Social Network