Resources
JQuery Cycle Plugin - Beginner Demos. All of the examples on this page use the following markup and CSS: You can choose from any of the following named effects: blindX blindY blindZ cover curtainX curtainY fade fadeZoom growX growY scrollUp scrollDown scrollLeft scrollRight scrollHorz scrollVert shuffle slideX slideY toss turnUp turnDown turnLeft turnRight uncover wipe zoom You specify the effect name by either passing a string to the cycle method or by using an options object and setting the fx property to the name of the desired effect.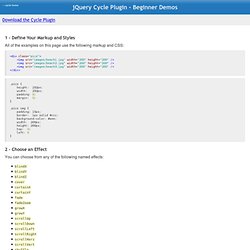 Next you may want to choose speed and timeout values to control how fast and how often the slide transitions occur. The speed option defines the number of milliseconds it will take to transition from one slide to the next. The timeout option specifies how many milliseconds will elapse between the start of each transition.
Freelance
Easily Publish Gorgeous Magazines. Minus - Free Image and File Sharing. Make Your Flash Site iPhone and iPad Friendly | Warm Forest Flash Blog. Everyone seems to be talking about how the iPhone and iPad don't support Flash but I haven't seen much discussion on what to actually do about it if you have a Flash site.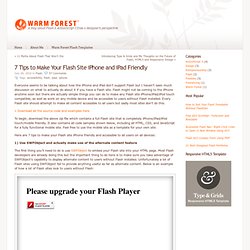 Flash might not be coming to the iPhone anytime soon but there are actually simple things you can do to make any Flash site iPhone/iPad/iPod touch compatible, as well as work on any mobile device and be accessible to users without Flash installed. Every Flash site should attempt to make all content accessible to all users but sadly most sites don't do this. » Download all the source code and examples here To begin, download the above zip file which contains a full Flash site that is completely iPhone/iPad/iPod touch/mobile friendly.
It also contains all code samples shown below, including all HTML, CSS, and JavaScript for a fully functional mobile site.
Blackbaud training
Qr codes. Ymlp. Audio. Images. Fonts.
---