Business ideas
What we do - MiniBar Labs. MiniBarLabs exists to better do, what we did anyways ;-) It's hard to create a brief description of what we've been doing for the last 7 years, but everything we do via MiniBarLabs is about connecting new technologies, digital start ups, products and services with innovative people and communities (and vice versa).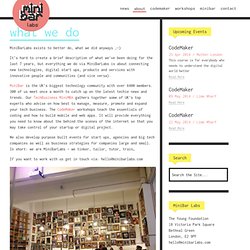 MiniBar is the UK's biggest technology community with over 6400 members. 300 of us meet once a month to catch up on the latest techie news and trends. Our TechBusiness MiniMBA gathers together some of UK's top experts who advise on how best to manage, measure, promote and expand your tech business. The CodeMaker workshops teach the essentials of coding and how to build mobile and web apps. It will provide everything you need to know about the behind the scenes of the internet so that you may take control of your startup or digital project. Christian Ahlert | People | Creative and Cultural Economy | British Council. Christian runs MiniBar, the UK's largest technology meet up and community with over 6000 members.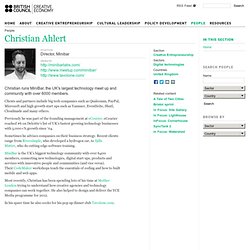 Clients and partners include big tech companies such as Qualcomm, PayPal, Microsoft and high growth start ups such as Yammer, Eventbrite, Shutl, Cloudmade and many others. Previously he was part of the founding management at eCourier. eCourier reached #6 on Deloitte's list of UK's fastest growing technology businesses with 5,000+% growth since '04. Sometimes he advises companies on their business strategy. Recent clients range from Riversimple, who developed a hydrogen car, to Sjills Matter, who do cutting edge software training. London Drupal Company | Cameron & Wilding | Drupal Agency. UK carbon measuring centre 'to improve climate future' 25 March 2012Last updated at 20:05 ET By Richard Black Environment correspondent, BBC News The centre will make use of the NPL's existing "Hot Box" for testing building components A new UK facility aimed at improving measurement of carbon emissions and boosting development of clean technology is due to open.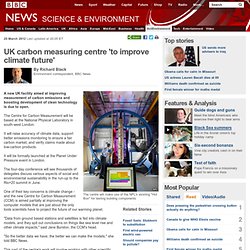 The Centre for Carbon Measurement will be based at the National Physical Laboratory in south-west London. It will raise accuracy of climate data, support better emissions monitoring to ensure a fair carbon market, and verify claims made about low-carbon products. Print-your-own-robots developed in US. Google unveils Project Glass augmented reality eyewear. 4 April 2012Last updated at 15:50 ET The eyewear appears to have a streamlined design despite all the functionality it is suggested to include Google has revealed details of its research into augmented reality glasses.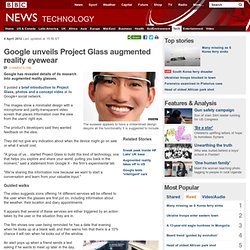 It posted a brief introduction to Project Glass, photos and a concept video at its Google+ social network. The images show a minimalist design with a microphone and partly-transparent video screen that places information over the view from the users' right eye. Apple tells developers they can generate more revenue with iAd, now serving rich media to iPad. Apple has sent out a new email to developers to promote their still struggling iAd platform, and advise about revenue generation possibilities and new rich media ads for iPad. iAd provides a significant source of additional revenue for iOS developers.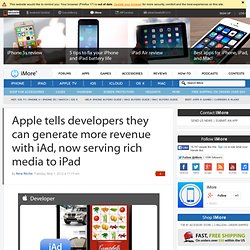 Many developers with apps just like yours are already making thousands of dollars per week serving iAd rich media ads. And users have been delighted by the range of ads from major brands that offer an interactive experience while keeping them in your app. iAd Rich Media Ads. Your 3D design turns into reality with the 3D printing. Global Market Finder. IndieGoGo. RubiTrack 2.1 – GPS Enabled Activity Tracking For The Mac. Toolsfactory software today announces the release of rubiTrack 2.1, an update of its GPS enabled activity tracking software for the Mac. rubiTrack lets you display, analyze and organize your outdoor and indoor workouts for sports like running, biking, hiking, skiing and all other fitness related activities where you log GPS data or monitor heart rate. rubiTrack reads tracks from GPS enabled fitness devices like the Garmin Forerunner, Garmin Edge, Nike iPod, AMOD GPS Trackers, Suunto and Polar fitness watches as well as the iPhone 3GS and 3G utilizing rubiTrack for iPhone. rubiTrack also imports activities stored in GPX, TCX and many other file formats.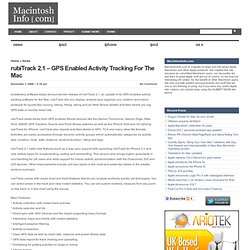 Activities are easily accessible through dynamic activity groups which automatically categorize by activity type, location, route, date, distance, workout duration, rating and tags. New business.
---