Progressive Pearls
MEDIAROOTS – Reporting From Outside Party Lines. The Fair Share of the Common Heritage | Infographics.
Progressive News. Down With Tyranny! WikiLeaks. Progressive Orgs. SourceWatch. SourceWatch.org is an interactive wiki website that depends on readers like you to improve content.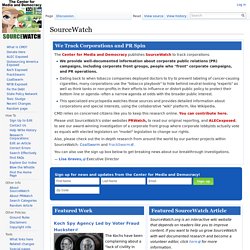 If you want to help us grow SourceWatch with well documented research and become a volunteer editor, click here for more information. National Restaurant Association. PRWatch. Discover the Networks. Politisite. Young Turks. Extreme Liberal's Blog. OpenSecrets.
---