Travels
21 Of the Most Extraordinary Places To Visit. The largest overwater bungalow in the world BY FAR. 13 Oct 2011 The largest overwater bungalow in the world BY FAR Overwater bungalows and water villas are known for being expensive, but at least they are also known for being larger than a typical hotel room, especially when you include the private decks.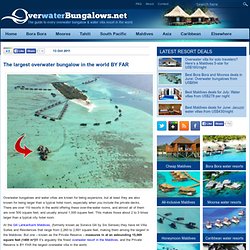 There are over 110 resorts in the world offering these over-the-water rooms, and almost all of them are over 500 square feet, and usually around 1,000 square feet. This makes those about 2 to 3 times larger than a typical city hotel room. Bintan - Indonesia in Travel Videos. Ha Long Bay - Vietnam in Travel Videos. Serifos(Greece) in Travel Videos. Exotic Retreats | Luxury Holidays in Tropical Destinations.
Istanbul, Turkey. The megacity of Istanbul is the largest city in Turkey, and the third largest in Europe.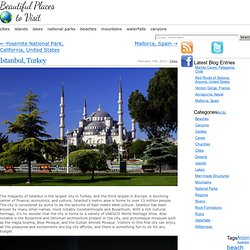 A booming center of finance, economics, and culture, Istanbul's metro area is home to over 13 million people. The city is considered by some to be the epitome of East meets West culture. Istanbul has been known by many other names, most notably Constantinople and Byzantium. With a rich cultural heritage, it's no wonder that the city is home to a variety of UNESCO World Heritage Sites. Also notable is the Byzantine and Ottoman architecture present in the city, and picturesque mosques such as the Hagia Sophia, Blue Mosque, and the Sultan Ahmed Mosque. Islands | Beautiful Places to Visit - Part 2.
The island nation known as the Seychelles can be found in the Indian Ocean off the East coast of Africa, North of Madagascar.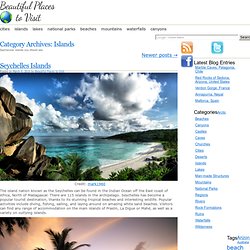 There are 115 islands in the archipelago. Seychelles has become a popular tourist destination, thanks to its stunning tropical beaches and interesting wildlife. Popular activities include diving, fishing, sailing, and laying around on amazing white sand beaches. Visitors can find any range of accommodation on the main islands of Praslin, La Digue or Mahé, as well as a variety on outlying islands.
---