Growth and Happiness At Work
History's Most Brilliant People Shared One Habit That Made Them Most Productive. Image Credit: Getty Images They took breaks.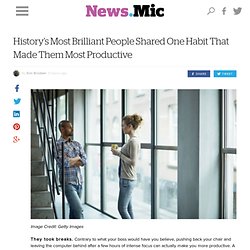 Contrary to what your boss would have you believe, pushing back your chair and leaving the computer behind after a few hours of intense focus can actually make you more productive. Don't Stop Thinking About Tomorrow. "I'll feel more like it tomorrow."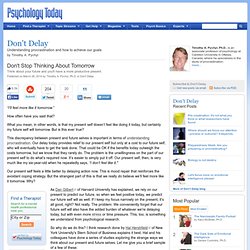 How often have you said that? What you mean, in other words, is that my present self doesn't feel like doing it today, but certainly my future self will tomorrow. But is this ever true? Body Language of the Hands. "Among all species, our human hands are unique -- not only in what they can accomplish, but also in how they communicate.
Human hands can paint the Sistine Chapel, pluck a guitar, maneuver surgical instruments, chisel a David, forge steel, and write poetry. They can grasp, scratch, poke, punch, feel, sense, evaluate, hold and mold the world around us. Our hands are extremely expressive; they can sign for the deaf, help tell a story, or reveal our innermost thoughts." (" What Every Body is Saying , " Harper Collins) No other species has appendages with such a remarkable range of capabilities. And yet if you asked most people about the nonverbals ( body language ) of the hands, they would be hard pressed to tell you all the things the hands reveal. How-to-live-longer-find-your-purpose-in-life-9365420. According to the researchers, their results suggest that creating a purpose for yourself could promote healthy ageing throughout adulthood.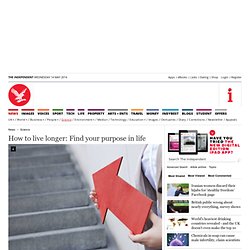 "Our findings point to the fact that finding a direction for life, and setting overarching goals for what you want to achieve can help you actually live longer, regardless of when you find your purpose," says lead researcher Dr Patrick Hill of Carleton University in Canada. Purposefulness has previously been found to be one of the strongest predictors of longevity, but this is the first study in which this effect has been isolated from other psychological and social influences on lifespan. It is also the first to include younger age groups. Having a sense of purpose was consistently linked to longer life across all age categories, leading Dr Hill to believe that "the earlier someone comes to a direction for life, the earlier these protective effects may be able to occur. " The 4 Major Roadblocks to Happiness.
A recent Harris poll revealed that only 33 percent of Americans are very happy.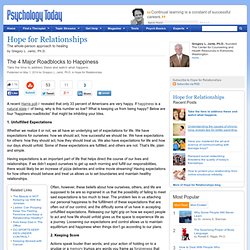 If happiness is a natural state of being, why is this number so low? What is keeping us from being happy? Below are four "happiness roadblocks" that might be inhibiting your bliss. 1. Happiness and productivity. What's the best way to ensure that your employees become more productive?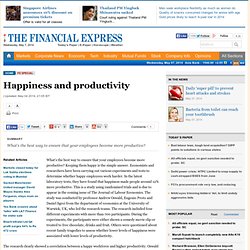 Keeping them happy is the simple answer. Economists and researchers have been carrying out various experiments and tests to determine whether happy employees work harder. The effects of bullying last a lifetime. Now more than a decade later, thankfully most people have come to understand the terrible consequences that bullying can have on young people – leaving far too many feeling they have no escape other than by harming themselves, or even taking their own lives.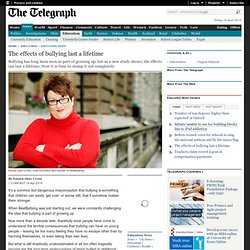 This landmark study by King's College London highlights the incontrovertible truth that bullying not only robs young people of their childhood, but also directly affects their health, social relationships and earning potential for the rest of their lives. And even more worryingly, unlike the cohort in the study that were born in the 1950s, children today cannot escape bullying once they pass through the school gates. Bullying can even reach them in the sanctuary of their bedroom through cyberbullying and trolling. We can only assume that if we repeated this study, in 40 years time the consequences of bullying could be even more damaging.
This study is wakeup call for Government. Success Outside the Dress Code.
Coaching Resources
Veins: a Scandinavian photobook full of blood, nudity and human strangeness | Art and design. "Anders Petersen showed me that photography is a way of life in itself," Jacob Aue Sobol once told me.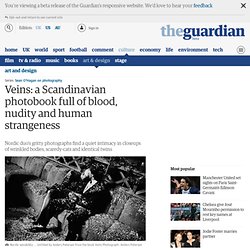 "Just the way he immerses himself in the subject. You look at his pictures and you feel that he had to make them. For him, photography is an obsession as well as an art form. " Now the two Scandinavian photographers have created a book together. An iceberg sunk the Titanic, right? Wrong. David Buchanan BA (Hons) PhD FRSE Chartered FCIPD is Professor of Organisational Behaviour at Cranfield School of Management.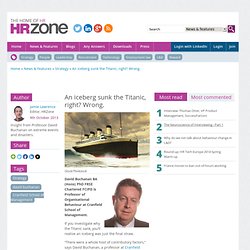 If you investigate why the Titanic sank, you'll realise an iceberg was just the final straw. "There were a whole host of contributory factors," says David Buchanan, a professor at Cranfield School of Management. Daniel Goleman's New Focus. What's your focus?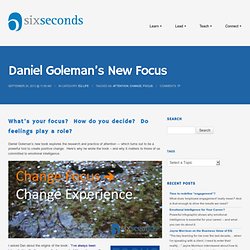 How do you decide? Do feelings play a role? Daniel Goleman's new book explores the research and practice of attention — which turns out to be a powerful tool to create positive change. Training Programmes - DY 3Solutions Ltd. Training & Development for Your Workforce DY 3Solutions is an innovative training provider that will help take your business to the next level by ensuring a well trained and motivated work force, using exceptional ICM accredited training courses together with a well-proven coaching approach to ensure action. Effective, interactive and inclusive training courses We provide well-designed, professionally written and delivered training courses that offer an effective a first class experience to an engaged audience that will feel involved and motivated to learn and apply their new sills.
HR guide to depression in the workplace. We all have mental health just as we have physical health – it moves up and down along a spectrum from good to poor. Considering how much time we spend at work, it's not surprising that our jobs can affect our wellbeing. Mental health problems are very common, and are also on the rise, in no small part due to the economic downturn. MANAGEMENT & LEADERSHIP INSIGHT: The Ideal Employer A-Z (Poster) The Ideal Employer A-Z Accepts responsibility Believes in the mission Cares about employees Demonstrates good character Energizes creativity Fixes problems Gives credit where due Holds him/herself accountable Is honest and responsible Justly deals with disputes Knows what is going on Leads rather than commands Makes hard decisions Never kills the messenger Obtains needed resources Prepares for contingencies Quells false rumors Really listens and learns Sets a good example Treats everyone with respect Understands employee's needs Values integrity and ethics Worthy of respect Xpects excellence Yields when wrong Zeros in on what's important.
The 12 Habits Of Highly Collaborative Organizations. 6 lessons from 'Scandal' on how to be a rock star professional. I recently started watching "Scandal. " I did so because my boss told me to, but it's one of the best assignments she's ever given me. I'm hooked! I've only watched the first season (thank you, Netflix), but in between the drama and spine-tingling suspense, there are some important lessons about how to be a rock star professional no matter where you work. Unambitious Loser With Happy, Fulfilling Life Still Lives In Hometown. CAMDEN, ME—Longtime acquaintances confirmed to reporters this week that local man Michael Husmer, an unambitious 29-year-old loser who leads an enjoyable and fulfilling life, still lives in his hometown and has no desire to leave. Claiming that the aimless slouch has never resided more than two hours from his parents and still hangs out with friends from high school, sources close to Husmer reported that the man, who has meaningful, lasting personal relationships and a healthy work-life balance, is an unmotivated washout who's perfectly comfortable being a nobody for the rest of his life.
"I've known Mike my whole life and he's a good guy, but it's pretty pathetic that he's still living on the same street he grew up on and experiencing a deep sense of personal satisfaction," childhood friend David Gorman said of the unaspiring, completely gratified do-nothing. "As soon as Mike graduated from college, he moved back home and started working at a local insurance firm. Leadership Fables: The Frog, The Crab, and The Monkey | Leadership Coaching Blog | Elements of Leadership Blog. The Power of Authenticity: Mike Robbins at TEDxGreenbrookSchool.
Stephen Covey: Five Emotional Cancers. The Four Strategies to Staying Curious in Learning (Part 2) | Greenlight Research Institute. Change Is Hard | Greenlight Research Institute. Introverts Support Each Other to Learn and Grow | Greenlight Research Institute. The 'X' model of employee engagement - BlessingWhite © 2012. Change Acceleration: A Behavior Engineering Primer | Greenlight Research Institute. Command and Control management: have we really moved on? | Jonathan Gifford. You Aren't Indestructible or Indispensable — And That's Good. The 'Busy' Trap. Appreciative Inquiry - DY 3Solutions Ltd. An Introduction to Appreciative Inquiry. Appreciative Inquiry summary. Peter Drucker Quotes | Wisdom From the Giant of Giants. An Uncomfortable Paradox: Control Freaks. YouTube.
---