Growth and Happiness At Work
"Anders Petersen showed me that photography is a way of life in itself," Jacob Aue Sobol once told me. "Just the way he immerses himself in the subject. You look at his pictures and you feel that he had to make them. For him, photography is an obsession as well as an art form." Now the two Scandinavian photographers have created a book together.
Veins: a Scandinavian photobook full of blood, nudity and human strangeness | Art and design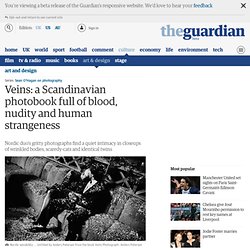 An iceberg sunk the Titanic, right? Wrong.
David Buchanan BA (Hons) PhD FRSE Chartered FCIPD is Professor of Organisational Behaviour at Cranfield School of Management. If you investigate why the Titanic sank, you'll realise an iceberg was just the final straw. "There were a whole host of contributory factors," says David Buchanan, a professor at Cranfield School of Management.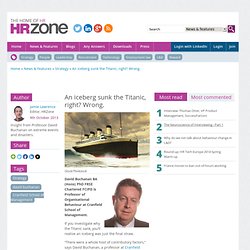 Daniel Goleman's New Focus
What's your focus? How do you decide? Do feelings play a role? Daniel Goleman's new book explores the research and practice of attention — which turns out to be a powerful tool to create positive change.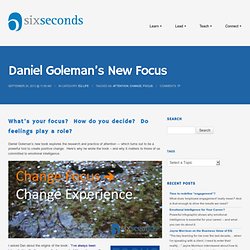 Training Programmes - DY 3Solutions Ltd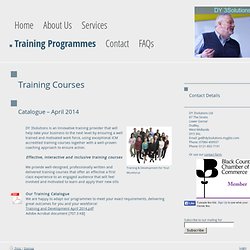 Training & Development for Your Workforce DY 3Solutions is an innovative training provider that will help take your business to the next level by ensuring a well trained and motivated work force, using exceptional ICM accredited training courses together with a well-proven coaching approach to ensure action. Effective, interactive and inclusive training courses We provide well-designed, professionally written and delivered training courses that offer an effective a first class experience to an engaged audience that will feel involved and motivated to learn and apply their new sills
HR guide to depression in the workplace | HRZone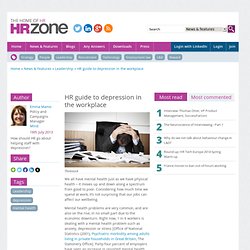 We all have mental health just as we have physical health – it moves up and down along a spectrum from good to poor. Considering how much time we spend at work, it's not surprising that our jobs can affect our wellbeing. Mental health problems are very common, and are also on the rise, in no small part due to the economic downturn.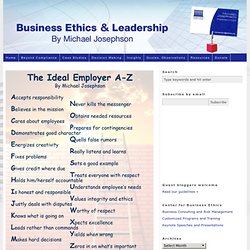 MANAGEMENT & LEADERSHIP INSIGHT: The Ideal Employer A-Z (Poster)
The Ideal Employer A-Z Accepts responsibility Believes in the mission Cares about employees Demonstrates good character Energizes creativity Fixes problems Gives credit where due Holds him/herself accountable Is honest and responsible Justly deals with disputes Knows what is going on Leads rather than commands Makes hard decisions Never kills the messenger Obtains needed resources Prepares for contingencies Quells false rumors Really listens and learns Sets a good example Treats everyone with respect Understands employee's needs Values integrity and ethics Worthy of respect Xpects excellence Yields when wrong Zeros in on what's important
The 12 Habits Of Highly Collaborative Organizations
6 lessons from 'Scandal' on how to be a rock star professional
I recently started watching "Scandal." I did so because my boss told me to, but it's one of the best assignments she's ever given me. I'm hooked! I've only watched the first season (thank you, Netflix), but in between the drama and spine-tingling suspense, there are some important lessons about how to be a rock star professional no matter where you work.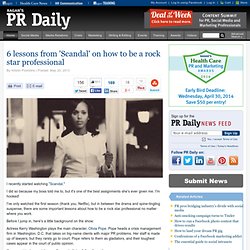 Unambitious Loser With Happy, Fulfilling Life Still Lives In Hometown
CAMDEN, ME—Longtime acquaintances confirmed to reporters this week that local man Michael Husmer, an unambitious 29-year-old loser who leads an enjoyable and fulfilling life, still lives in his hometown and has no desire to leave. Claiming that the aimless slouch has never resided more than two hours from his parents and still hangs out with friends from high school, sources close to Husmer reported that the man, who has meaningful, lasting personal relationships and a healthy work-life balance, is an unmotivated washout who's perfectly comfortable being a nobody for the rest of his life. "I've known Mike my whole life and he's a good guy, but it's pretty pathetic that he's still living on the same street he grew up on and experiencing a deep sense of personal satisfaction," childhood friend David Gorman said of the unaspiring, completely gratified do-nothing. "As soon as Mike graduated from college, he moved back home and started working at a local insurance firm.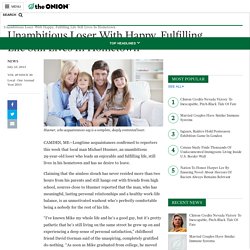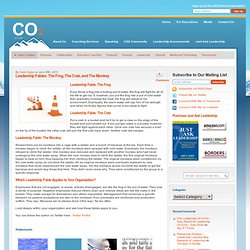 Leadership Fables: The Frog, The Crab, and The Monkey | Leadership Coaching Blog | Elements of Leadership Blog
By Calvin Guyer on June 28th, 2013 Leadership Fable: The Frog If you throw a frog into a boiling pot of water, the frog will fight for all of his life to get out. If, however, you put the frog into a pot of cold water then gradually increase the heat, the frog will adjust to his environment.
The Power of Authenticity: Mike Robbins at TEDxGreenbrookSchool
Stephen Covey: Five Emotional Cancers
The Four Strategies to Staying Curious in Learning (Part 2) | Greenlight Research Institute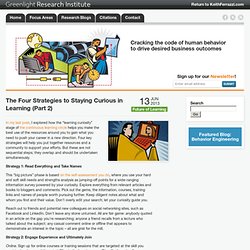 In my last post, I explored how the "learning curiosity" stage of the continuous learning circle helps you make the best use of the resources around you to gain what you need to push your career in a new direction. Four key strategies will help you put together resources and a community to support your efforts. But these are not sequential steps; they overlap and should be undertaken simultaneously. Strategy 1: Read Everything and Take Names This "big picture" phase is based on the self-assessment you do, where you use your hard and soft skill needs and strengths analysis as jumping-off points for a wide-ranging information survey powered by your curiosity. Explore everything from relevant articles and books to bloggers and comments.
Change Is Hard | Greenlight Research Institute
The only genuine, sustainable motivator is a sense of a larger purpose aligned with personal goals. This post was written by the Greenlight Research Institute Staff. The English language is full of sayings about change being hard: Better the devil you know.
In my last post, I talked about the importance of assessing your strengths and weaknesses to close the learning and skills gaps holding you back from achieving your career goals. But there's another assessment you need to make: "Am I an introvert or an extrovert?" I've found it is hugely important in business to have a deeper understanding of this aspect of your personality.
Introverts Support Each Other to Learn and Grow | Greenlight Research Institute
The 'X' model of employee engagement - BlessingWhite © 2012
Change Acceleration: A Behavior Engineering Primer | Greenlight Research Institute
Strong, adaptive organizations foster innovation, creativity, productivity and loyalty among employees and customers. Ferrazzi Greenlight's Change Acceleration System has been celebrated by Fortune 500 Leaders as "today's progressive choice — the McKinsey of culture change." Our highly customized methodology has enabled a wide range of cultures stymied by silos and hierarchies to become more agile, collaborative and accountable, helping our clients reap the benefits of increased engagement and customer intimacy. Explore below how our 8-step change process yields gains in product/service quality, customer loyalty, revenue growth and profit, and ultimately — shareholder value.
Command and Control management: have we really moved on? | Jonathan Gifford
'Command and Control' is a phrase that we only use nowadays in connection with modern management in a tone of amused irony. We all know about command and control as the management system of choice from the earliest days of the major modern corporations—and we have definitely 'moved on'. Or have we?
You Aren't Indestructible or Indispensable — And That's Good
Anxiety: We worry.
The 'Busy' Trap
Appreciative Inquiry - DY 3Solutions Ltd
An Introduction to Appreciative Inquiry
Appreciative Inquiry summary
Peter Drucker Quotes | Wisdom From the Giant of Giants
An Uncomfortable Paradox: Control Freaks
YouTube
Why do people wait so long before voicing their concerns? by johndooner Mar 27