Structure P1
Pears
Yesterday, on stage at An Event Apart Atlanta , I announced Pears : an open source WordPress theme for creating your own markup & style pattern library. I wanted to create my own database repository of commonly used patterns and figured the tool might be useful for others as well. Breaking interfaces down into patterns has been immensely helpful in learning and re-evaluating the best possible code to implement them.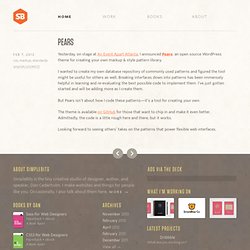 Designing Modern Web Forms with HTML 5 and CSS3 » LegendThemes.com
Recently I noticed that many web developers are still using HTML tables to layout their forms. Mainly it is because people stick with what they know, and have never taken the time to learn a better way.
Where Can I Learn More?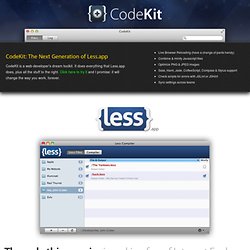 Facebook and Twitter have become large in the social network world and both networks offering oAuth support. We developed a system to login with Twitter and Facebook.
Login with Facebook and Twitter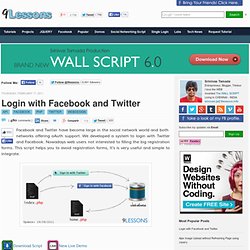 I know what my readers are expecting from 9lessons blog, after long time I'm going to discuss about Jquery usage. Facebook timeline design makes big revolution in social networking world and it gives new feel to the user profile pages. In this post I want to explain how simple I had implemented this design with Jquery and CSS.
Facebook Timeline Design using JQuery and CSS.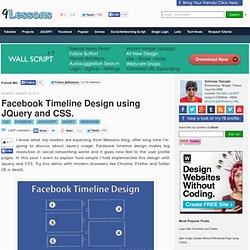 http://www.youtube.com/user/nettutsplus?feature=watch#p/search/0/B05Dl4iL21M is not available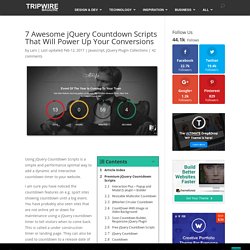 I'm sure you have noticed the countdown features on e.g. sport sites showing countdown until a big event.
20 Cool jQuery Countdown Scripts
jTag : A jQuery plugin to tag pictures & more ! | Made in Paté
In java programming, jQuery plugins are providing a set of interaction plugins for user interface widgets and creating visual effects. The jQuery plugins have a flexible style sheeting to give a user friendly design for the websites.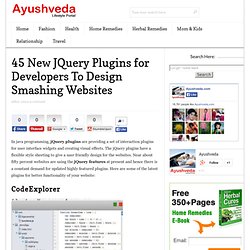 45 New JQuery Plugins for Developers To Design Smashing Websites - 45 Useful jQuery Plugins and Techniques | Ayushveda.com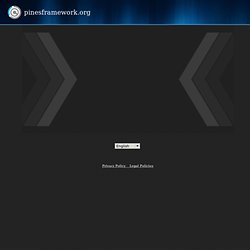 Pines Notify comes with the following files: jquery.pnotify.js & jquery.pnotify.min.js (Minified) - The main JavaScript.
Facebook wall script with expanding URLs one of the popular post on 9lessons.
Facebook Wall Script 3.0 with PHP and Jquery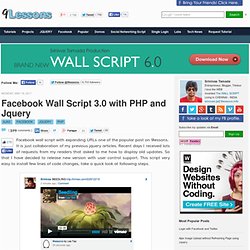 In the world of socializing on internet, Twitter is a big name and for developers its Twitter's API. Its just Twitter's unmatchable API that is failing all other micro-blogging services (like Tumblr) out there as it allows you to do almost everything. Once you become familiar with the Twitter API you can do innumerable number of things with it like updating your Twitter statuses remotely (Hint: We'll be making this today!), searching the latest tweets for a keyword, and grab someone's or your latest Tweets. Today, we'll be making a PHP Application that helps you update your Twitter status.
How to Update Twitter using PHP and Twitter API
How to Authenticate Users With Twitter OAuth
Beginning August 16th, Twitter will no longer support the basic authentication protocol for its platform. That means the only way to authenticate users will be through a Twitter application. In this tutorial, I'll show you how to use Twitter as your one-click authentication system, just as we did with Facebook . Step 1: Setting Up The Application
jQuery UI offers a combination of interaction, effects, widgets, utilities, and themes designed to work well together or on their own.
Animated Form Switching with jQuery
HTML5 is certainly one of the latest buzzwords in the web community.
Create a stylish HTML5 template from scratch
Interactive Google Map using the Twitter API
var map, geocoder, marker, ey, my, mouseDown = false ; var o = {
Simple Vote Using JQuery Animate
Script Junkie | Extending Your jQuery Application with Amplify.js
40 Constructive Tutorials Using AJAX Technology
Request | API | AmplifyJS - A Component Library for jQuery
Carbon Fiber Signup Form With PHP, jQuery and CSS3
Express - node web framework
10 Websites to download PHP scripts
50 jQuery Snippets That Will Help You Become A Better JavaScript Developer
Backbone.js
22 Most Popular jQuery Plugins of 2011