Coding
Sammy.js / A Small Web Framework with Class / RESTFul Evented JavaScript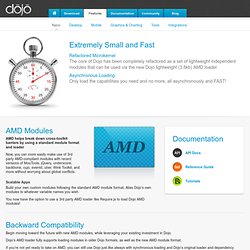 AMD helps break down cross-toolkit barriers by using a standard module format and loader Now, you can more easily make use of 3rd party AMD-compliant modules with recent versions of MooTools, jQuery, underscore, backbone, cujo, eventd, uber, Wink Toolkit, and more without worrying about global conflicts.
Dojo Nano
Bio
Mobile Web Development with HTML5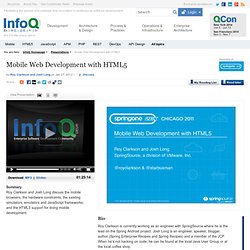 jQuery - 29 - Enable submit button after file selected
Web Startup Blog • Startup Marketing, Bootstrapping, Web App Design
It's here! Our shiny new Javascript API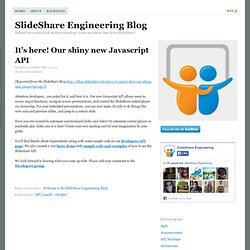 [Reposted from the SlideShare Blog http://blog.slideshare.net/2011/01/24/its-here-our-shiny-new-javascript-api/]
New South Wales New South Wales (abbreviated as NSW) is Australia's oldest and most populous state, located in the south-east of the country, north of Victoria and south of Queensland. It was founded in 1788 and originally comprised much of the Australian mainland, as well as Lord Howe Island and Norfolk Island.
Raphaël · Australia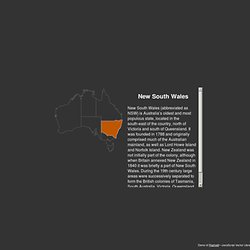 Here's a quick start installation guide to get you up and running with the Google Android Software Development Kit (SDK). This guide will describe how to install the Android SDK and set up your chosen development environments. If you' haven't already done so you can download the Android SDK from the link below, then we can get started.
How-To Install Android SDK On Windows, Mac and Linux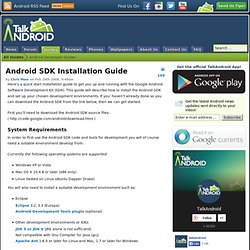 The Facepile plugin displays the Facebook profile photos of people who have connected with your Facebook page or app. Settings The configurator above doesn't include all of the possible settings for your Like button.
Facepile
Download Free XHTML/CSS Templates to 20 Cool Websites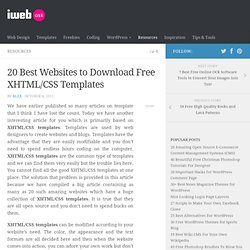 We have earlier published so many articles on template that I think I have lost the count. Today we have another interesting article for you which is primarily based on XHTML/CSS templates. Templates are used by web designers to create websites and blogs. Templates have the advantage that they are easily modifiable and you don't need to spend endless hours coding on the computer.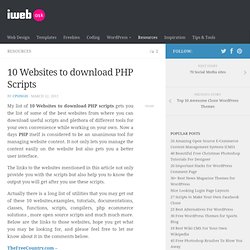 My list of 10 Websites to download PHP scripts gets you the list of some of the best websites from where you can download useful scripts and plethora of different tools for your own convenience while working on your own. Now a days PHP itself is considered to be an unanimous tool for managing website content. It not only lets you manage the content easily on the website but also gets you a better user interface. The links to the websites mentioned in this article not only provide you with the scripts but also help you to know the output you will get after you use these scripts.
10 Websites to download PHP scripts
Download Builder
Download Modernizr 2.7.1 Use the Development version to develop with and learn from.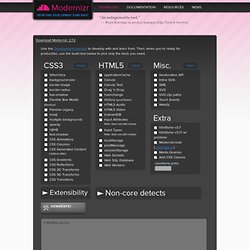 Mockup Builder™ - Free version
How to Code PHP Tutorial 1 | PHP Blog
Multi-direction hover - jsFiddle - Online Editor for the Web (JavaScript, MooTools, jQuery, Prototype, YUI, Glow and Dojo, HTML, CSS)
Last month developers were busy with jQuery and it is time to go through some of the most popular jQuery plugins they created in January 2012. 1. Scrollorama
8 Most Popular jQuery Plugins of January 2012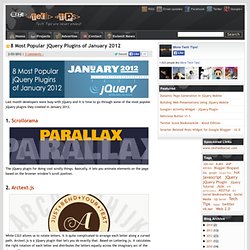 Generating Files with JavaScript
Martin Angelov
We covered a demo earlier this week showing real time video processing with WebGL, but Seriously.js taking this concept even further: seriously!
Seriously.js: A Realtime, Node-Based Video Compositor for the Web
jairajs89/Touchy.js - GitHub
jQuery Plugin for Fluid Video Generally it is best to use services like YouTube, Vimeo or a CDN for hosting video, but sometimes it isn't an option. SimpleVid is a free and easy way to host and embed your own fluid videos. It uses flash to for browsers that don't support h.264, so you can encode once as a baseline h.264 mp4 and play anywhere.
SimpleVid on GitHub
phpMyFAQ FAQ - powered by phpMyFAQ 2.7.2
Layouts/Templates
15 useful plugins for multi-author blogs
Managing a blog with a single author can be time-consuming enough, but adding in multiple authors can exponentially increase the amount of time and effort it takes to manage.
Non-Developer's iPhone App: From Idea to App Store | IAmDann
CSS Like Never Before! 40+ CSS3 Tutorials
Getting Started with Spine Mobile
List.js 0.2.0: Plugins and Paging - @javve
Warming up to Ember.js :: Cerebris
pufuwozu/roy - GitHub
About | Gridpak - The Responsive grid generator
davidgtonge's Profile - GitHub
Script Junkie | Extending Your jQuery Application with Amplify.js
Hotmail - johann_kerr
Styling Buttons and Toolbars with the jQuery UI CSS Framework
Courses
Learn How To Build Apps | Bloc
Free Premium Shopping Cart Icons By We3templates.com
The Official Guide to HTML5 Boilerplate
jQuery Plugin Development – 10 Tutorials To Get Started
10 Tips for Decreasing Web Page Load Times
The Effective Strategy For Choosing Right Domain Names - Smashing Magazine
Naked Password - jQuery Plugin to Encourage Stronger Passwords
for Websites
Build a website Tasks
Command and Conquer – Programming an RTS game in HTML5 and Javascript | Aditya Ravi Shankar
PHP
turn.js - The page flip effect for HTML5
deoxxa/houkou - GitHub
Android - FSFE Fellowship Wiki
ColrGrabr - website css color scraping made easy
kennethreitz/python-guide - GitHub
Simple responsive design test page
BenjaminKeen.com
Pictos
7 new techniques every web developer should know
alexmic/filtrr - GitHub
jTable.org - A JQuery plugin to create AJAX based CRUD tables - Home Page
Your source of Javascript :: Free Weekly Javascript newsletter
What is Node.js?
HTML5 Boilerplate - A rock-solid default template for HTML5 awesome.
5 Ways to Make Websites More Social
JavaScript Garden
samarudge/Squeezeit - GitHub
Using the Vibration API – Part of WebAPI
Malte Ubl's Asynchronous Identity Disorder: The Future is here. I just forked a running website: Streamie.org