Coding
Sammy.js / A Small Web Framework with Class / RESTFul Evented JavaScript. Popcorn Build Tool | Mozilla Popcorn. Dojo Nano. AMD helps break down cross-toolkit barriers by using a standard module format and loader Now, you can more easily make use of 3rd party AMD-compliant modules with recent versions of MooTools, jQuery, underscore, backbone, cujo, eventd, uber, Wink Toolkit, and more without worrying about global conflicts.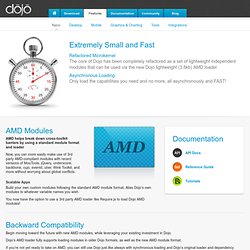 Build your own custom modules following the standard AMD module format. Alias Dojo's own modules to whatever variable names you wish. You now have the option to use a 3rd party AMD loader like Require.js to load Dojo AMD modules! Mobile Web Development with HTML5. Bio Roy Clarkson is currently working as an engineer with SpringSource where he is the lead on the Spring Android project.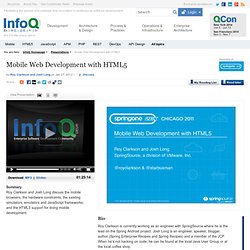 Josh Long is an engineer, speaker, blogger, author (Spring Enterprise Recipes and Spring Recipes) and a member of the JCP. When he's not hacking on code, he can be found at the local Java User Group or at the local coffee shop. jQuery - 29 - Enable submit button after file selected. Web Startup Blog • Startup Marketing, Bootstrapping, Web App Design. It's here! Our shiny new Javascript API. [Reposted from the SlideShare Blog Attention developers…you asked for it, and here it is.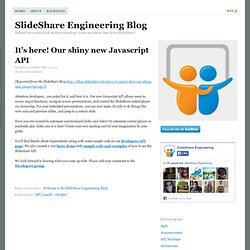 Our new Javascript API allows users to access major functions, navigate across presentations, and control the SlideShare embed player via Javascript. For your embedded presentations, you can now make JS calls to do things like view next and previous slides, and jump to a certain slide. Raphaël · Australia. New South Wales New South Wales (abbreviated as NSW) is Australia's oldest and most populous state, located in the south-east of the country, north of Victoria and south of Queensland.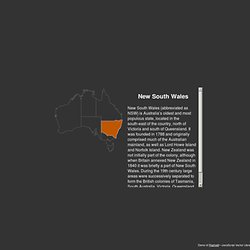 It was founded in 1788 and originally comprised much of the Australian mainland, as well as Lord Howe Island and Norfolk Island. How-To Install Android SDK On Windows, Mac and Linux. Here's a quick start installation guide to get you up and running with the Google Android Software Development Kit (SDK).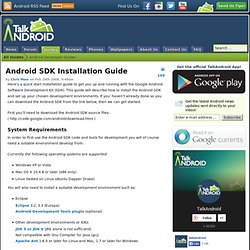 This guide will describe how to install the Android SDK and set up your chosen development environments. If you' haven't already done so you can download the Android SDK from the link below, then we can get started. Facepile. My plugin isn't displaying anything The plugin only displays friends photos.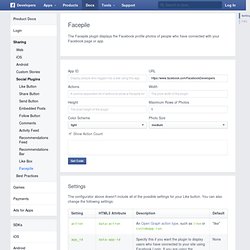 If the person viewing the plugin does not have friends who have liked your page or have connected to your site, no faces will be shown. If you are displaying people who have liked your page, and nobody has liked it yet, the plugin will render nothing. If some people have liked your page, but none of the viewing person's friends have liked it, the plugin will display the total number of people who have liked your page. If you are displaying people who have connected to your site, and none of the viewing person's friends have connected yet, the plugin will render nothing. Download Free XHTML/CSS Templates to 20 Cool Websites. 10 Websites to download PHP scripts. My list of 10 Websites to download PHP scripts gets you the list of some of the best websites from where you can download useful scripts and plethora of different tools for your own convenience while working on your own.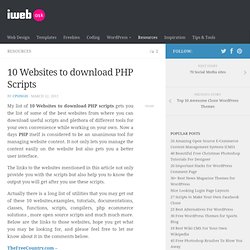 Now a days PHP itself is considered to be an unanimous tool for managing website content. It not only lets you manage the content easily on the website but also gets you a better user interface. The links to the websites mentioned in this article not only provide you with the scripts but also help you to know the output you will get after you use these scripts. Download Builder.
Download Modernizr 2.7.2 Use the Development version to develop with and learn from.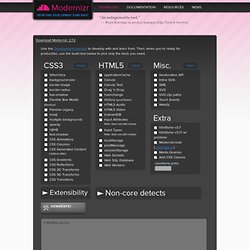 Then, when you're ready for production, use the build tool below to pick only the tests you need. Generate! Download custom build // Minified source. Mockup Builder™ - Free version. How to Code PHP Tutorial 1 | PHP Blog. Lettering.js - A jQuery plugin for radical web typography. Multi-direction hover - jsFiddle - Online Editor for the Web (JavaScript, MooTools, jQuery, Prototype, YUI, Glow and Dojo, HTML, CSS) 8 Most Popular jQuery Plugins of January 2012. Last month developers were busy with jQuery and it is time to go through some of the most popular jQuery plugins they created in January 2012. 1.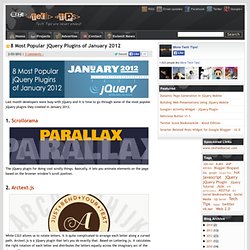 Scrollorama. FitText - A plugin for inflating web type. JavaScript. Generating Files with JavaScript. Martin Angelov When building a web application, you oftentimes need to give users the ability to download a piece of data as a file.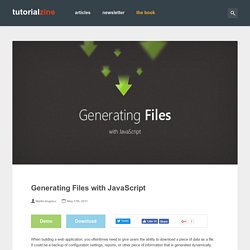 It could be a backup of configuration settings, reports, or other piece of information that is generated dynamically. The usual solution to this problem would be to have a dedicated export script that selects from a database and builds the file you need. However, as we will be proving in this short tutorial, there is another way. Seriously.js: A Realtime, Node-Based Video Compositor for the Web. We covered a demo earlier this week showing real time video processing with WebGL, but Seriously.js taking this concept even further: seriously! Seriously.js is a real-time, node-based video compositor for the web. Inspired by professional software such as After Effects and Nuke, Seriously.js renders high-quality video effects, but allows them to be dynamic and interactive.
It features an optimized rendering path that is built with WebGL making it entirely hardware accelerated at 60 frames per second. You can use videos, images, canvases and pixel arrays as input sources to the compositor and then apply various video effects to the resulting image, and apply 2d transforms to any layer (3d is coming). Jairajs89/Touchy.js - GitHub. SimpleVid on GitHub. jQuery Plugin for Fluid Video Generally it is best to use services like YouTube, Vimeo or a CDN for hosting video, but sometimes it isn't an option. SimpleVid is a free and easy way to host and embed your own fluid videos. It uses flash to for browsers that don't support h.264, so you can encode once as a baseline h.264 mp4 and play anywhere.
PhpMyFAQ FAQ - powered by phpMyFAQ 2.7.2. Layouts/Templates. Seamless Responsive Photo Grid Create a grid of photos and display them edge-to-edge on the browser window with no gaps. Download Files View Demo HTML Email Template. JavaScript Library. 15 useful plugins for multi-author blogs. Managing a blog with a single author can be time-consuming enough, but adding in multiple authors can exponentially increase the amount of time and effort it takes to manage. There's editorial workflow, scheduling, and author management to consider, among other things. Below are fifteen plugins that can make managing your multi-author blog a lot easier. They include editorial workflow plugins, scheduling and calendar plugins, and plugins that will benefit your authors or make it easier to communicate with them. EditFlow. Non-Developer's iPhone App: From Idea to App Store | IAmDann.
My first iPhone app, Reader Tracker, is officially available in the iPhone/iPad App Store! It's been a long journey from idea to app store (much of which was spent distracted by other half-finished projects) so it's very exciting to finally see a finished product available for sale. Coming from a non-technical background, I wanted to show the work that got an app into the App Store. There are numerous articles imploring "idea" entrepreneurs to stop searching for a technical co-founder and to hire freelance.
And this is another one of those articles. CS 193P iPhone Application Development. CSS Like Never Before! 40+ CSS3 Tutorials. Getting Started with Spine Mobile. Warming up to Ember.js :: Cerebris. Pufuwozu/roy - GitHub. About | Gridpak - The Responsive grid generator. Backbone.js. Davidgtonge's Profile - GitHub. Script Junkie | Extending Your jQuery Application with Amplify.js. Hotmail - johann_kerr. Styling Buttons and Toolbars with the jQuery UI CSS Framework. HTML5 Please - Use the new and shiny responsibly.
Courses. Learn How To Build Apps | Bloc. Free Premium Shopping Cart Icons By We3templates.com. The Official Guide to HTML5 Boilerplate. jQuery Plugin Development – 10 Tutorials To Get Started. 10 Tips for Decreasing Web Page Load Times. The Effective Strategy For Choosing Right Domain Names - Smashing Magazine. Naked Password - jQuery Plugin to Encourage Stronger Passwords. For Websites.
The Node Beginner Book » A comprehensive Node.js tutorial. Build a website Tasks. Command and Conquer – Programming an RTS game in HTML5 and Javascript | Aditya Ravi Shankar. 60 Useful Online Generators for Designers | Tools. PHP. Turn.js - The page flip effect for HTML5.
Deoxxa/houkou - GitHub. Android - FSFE Fellowship Wiki. ColrGrabr - website css color scraping made easy. Kennethreitz/python-guide - GitHub. Ten Things To Think About When Designing Your iPad App - Smashing UX Design. Simple responsive design test page. BenjaminKeen.com. Pictos. 7 new techniques every web developer should know. Alexmic/filtrr - GitHub. jTable.org - A JQuery plugin to create AJAX based CRUD tables - Home Page. Your source of Javascript :: Free Weekly Javascript newsletter. What is Node.js? HTML5 Boilerplate - A rock-solid default template for HTML5 awesome. LESS « The Dynamic Stylesheet language. 5 Ways to Make Websites More Social. JavaScript Garden. Samarudge/Squeezeit - GitHub. JavaScript Garden.
Using the Vibration API – Part of WebAPI. Malte Ubl's Asynchronous Identity Disorder: The Future is here. I just forked a running website: Streamie.org.
---