Web
Semantic Web. Htaccess Tutorial - Introduction. .htaccess Tutorial - Introduction A text file called .htaccess can be used to control web server (Apache) behavior for your web site.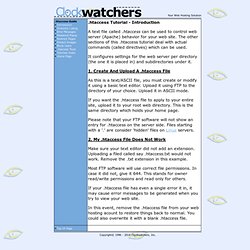 The other sections of this .htaccess tutorial deal with actual commands (called directives) which can be used. It configures settings for the web server per directory (the one it is placed in) and subdirectories under it. 99 Wikipedia Sources Aiding the Semantic Web » AI3:::Adaptive In. Since about 2005 — and at an accelerating pace — Wikipedia has emerged as the leading online knowledge base for conducting semantic Web and related research.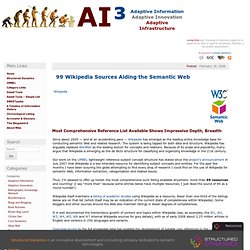 The system is being tapped for both data and structure. Wikipedia has arguably replaced WordNet as the leading lexicon for concepts and relations. Because of its scope and popularity, many argue that Wikipedia is emerging as the de facto structure for classifying and organizing knowledge in the 21st century. Our work on the UMBEL lightweight reference subject concept structure has stated since the project's announcement in July 2007 that Wikipedia is a key intended resource for identifying subject concepts and entities.
SHOE. Note: This SHOE web site is no longer being actively maintained.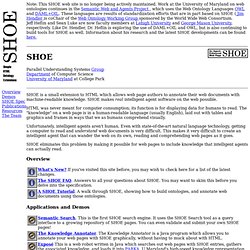 Work at the University of Maryland on web ontologies continues in the Semantic Web and Agents Project , which uses the Web Ontology Languages OWL and DAML+OIL. These languages are results of standardization efforts that are in part based on SHOE ( Jim Hendler is coChair of the Web Ontology Working Group sponsored by the World Wide Web Consortium. Jeff Heflin and Sean Luke are now faculty members at Lehigh University and George Mason University, respectively.
Like Dr. Hendler, Dr. Semantic MediaWiki.
---