Old Heads: The Good Stuff
The Who's Official Website - News from Roger Daltrey, Pete Townshend, John Entwistle, and Keith Moon. Simon & Garfunkel | The Official Simon & Garfunkel Site. Poetry Pages - The Poetry of Jim Morrison. The Poetry of Jim Morrison Moment of inner freedom when the mind is opened and the infinite universe revealed & the soul is left to wander dazed & confus'd searching here & there for teachers & friends.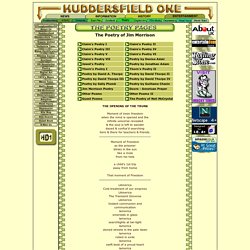 Moment of Freedom as the prisoner blinks in the sun like a mole from his hole. Jim Morrison. James Douglas "Jim" Morrison (December 8, 1943 – July 3, 1971) was an American singer-songwriter and poet, best remembered as the lead singer of Los Angeles rock band The Doors.[1] From a young age, Morrison became infatuated with the works of Friedrich Nietzsche, Arthur Rimbaud and Jack Kerouac, often incorporating their work into his lyrics.
In his later life, Morrison developed an alcohol dependency which led to his death at the age of 27 in Paris. He is alleged to have died of a heroin overdose, but as no autopsy was performed, the exact cause of his death is still disputed.[2] Ray Manzarek said that Morrison "embodied hippie counterculture rebellion. Jimi Hendrix | The Official Jimi Hendrix Site. Pink Floyd | The Official Site. Led Zeppelin - Official Website.
The Official Jethro Tull Website. The Doors.
---