Adobe
Learn InDesign CS5 & CS5.5
CuttyFruty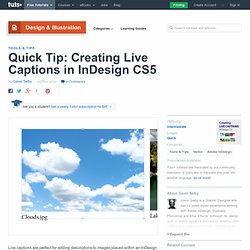 Live captions are perfect for adding descriptions to images placed within an InDesign document. InDesign uses the metadata from an imported file and generates a text frame. For example, if you have a contact sheet set up from an image library you can use Live Caption to automatically add descriptions to each frame. If you are interested in saving time, read on.
Quick Tip: Creating Live Captions in InDesign CS5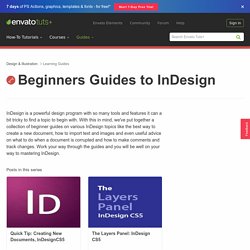 Sessions are blocks of articles, interviews, tutorials and content on a particular creative subject. Sessions are hosted around the Tuts+ network depending on where each article fits best. So for example web design posts might appear on Psdtuts+ or Nettuts+. This site is like a table of contents for each session. The aim is to provide lots and lots of mini courses on different topics! That way you can get a variety of knowledge about the creative fields.
Beginners Guides to InDesign
Working with Nested Styles in InDesign
Without a dedicated menu item for creating a clipping mask, InDesign need to know the tricks for getting an image into a shape or text. AJ Wood shows InDesign users how to use the paste into command to insert an image into any fill-able frame or shape and to create a clipping mask from text. Author: A.J. Wood A.J. Wood is an Adobe Community Professional & Adobe Certified Instructor in Photoshop, Lightroom & InDesign. He is a NAPP Evangelist, belongs to the Professional Photographers of America (PPA) and is an instructor for the Special Kids Photography of America (SKPA).
Clipping Masks in InDesign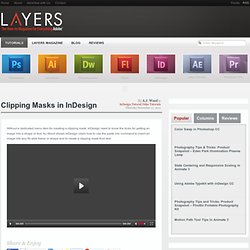 Good clean typography is a fundemental skill of any designer. Most designers believe they have good typography but in my experience it is something which is developed through time and experience. I think we all begin our design lives with a desire to be outrageously creative, and only as we mature, begin realise that simplicity and structure is just as, if not more important. In this article, I will go through some simple steps to acheive good clean well structured typography in Adobe Indesign. The first step is to choose your typefont. In this case I have chosen a simple standard font of Helvetica Neue.
A tutorial for good typography in InDesign - Setting up a baseline grid