Excel
The Ultimate Excel Cheatsheet. Working with the new Excel 2007 is now more frustrating than ever when it comes to finding the right commands. Sometimes it seems like part magic and part luck. That's why I've put together the cream of the crop of Excel shortcuts in easy to use cheatsheets you can print up and keep handy. Highlighting the most commonly used and commonly looked for Excel commands, this list puts it all at your fingertips. Keyboard Shortcuts. Free Excel 2007 Tutorial. Microsoft Excel 2007 Tutorial—Free & Online. By Denise Etheridge You can use this free online tutorial to learn Microsoft Excel 2007.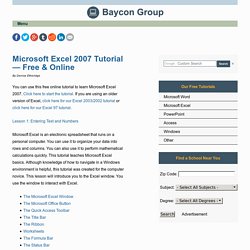 Click here to start the tutorial. If you are using an older version of Excel, click here for our Excel 2003/2002 tutorial or click here for our Excel 97 tutorial. Lesson 1: Entering Text and Numbers. ExcelRibbon.Tips.Net - Powerful tips on using Microsoft Excel. SpreadsheetZONE - Free Excel Template Repository.
Forums
Excel: Extracting Words From Text in Excel. Parse Words From a Text String in Excel. ShareThis | | Information Helpful?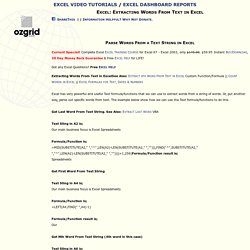 Why Not Donate. Current Special! Complete Excel Excel Training Course for Excel 97 - Excel 2003, only $145.00. $59.95 Instant Buy/Download, 30 Day Money Back Guarantee & Free Excel Help for LIFE! Truncate Text in Excel - Excel RIGHT Function. When data is imported or copied into an Excel spreadsheet unwanted characters or words can sometimes be included with the new data.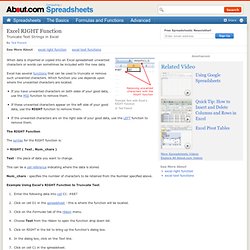 Excel has several functions that can be used to truncate or remove such unwanted characters. Which function you use depends upon where the unwanted characters are located. If you have unwanted characters on both sides of your good data, use the MID function to remove them.If these unwanted characters appear on the left side of your good data, use the RIGHT function to remove them.If the unwanted characters are on the right side of your good data, use the LEFT function to remove them.
---