Business
Top 150 Management &Leadership Blogs - Agile Management | NOOP.NL - StumbleUpon. Top 150 Management & Leadership Blogs I thought it was time for a new top list on this blog.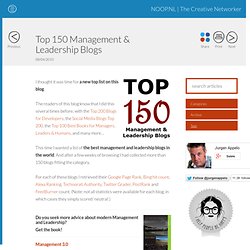 The readers of this blog know that I did this several times before, with the Top 200 Blogs for Developers, the Social Media Blogs Top 200, the Top 100 Best Books for Managers, Leaders & Humans, and many more… This time I wanted a list of the best management and leadership blogs in the world.
Money. Best 101 Entrepreneurship Quotes Ever · 14 Clicks - StumbleUpon. I'm a big fan of quotes.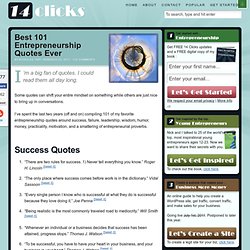 I could read them all day long. Some quotes can shift your entire mindset on something while others are just nice to bring up in conversations. I've spent the last two years (off and on) compiling 101 of my favorite entrepreneurship quotes around success, failure, leadership, wisdom, humor, money, practicality, motivation, and a smattering of entrepreneurial proverbs. Leadership Body Lnguage. Drive: The Surprising Truth About What Motivates Us | Hot Sauce! - StumbleUpon. July 22, 2011 by Akira Hirai Daniel Pink's book, Drive, explores some misconceptions about what drives human behaviors.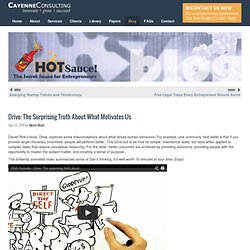 For example, one commonly held belief is that if you provide larger monetary incentives, people will perform better. When Others Fail, Just Empathize - Management Tip of the Day - May 13, 2011... May 13, 2011 When people fail at work, your instinct may be to go into problem-solving mode.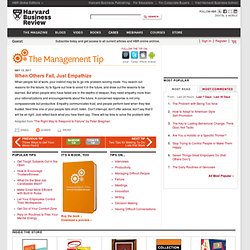 You search out reasons for the failure, try to figure out how to avoid it in the future, and draw out the lessons to be learned. Create a Killer Business Plan - Martha Stewart Community. You've got the idea, now package it well!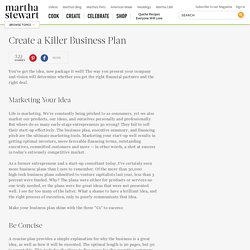 The way you present your company and vision will determine whether you get the right financial partners and the right deal. Marketing Your IdeaLife is marketing. We're constantly being pitched to as consumers, yet we also market our products, our ideas, and ourselves personally and professionally. But where do so many early-stage entrepreneurs go wrong? Hiring is Obsolete. May 2005 (This essay is derived from a talk at the Berkeley CSUA.)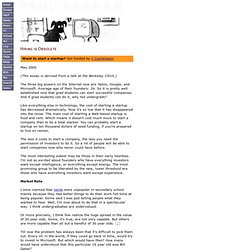 The three big powers on the Internet now are Yahoo, Google, and Microsoft. Average age of their founders: 24. So it is pretty well established now that grad students can start successful companies. The Small Business Checklist. WorkHappy.net: killer resources for entrepreneurs. Employee Recognition Appreciation Award Ideas - StumbleUpon.
Sincere thanks never grow old.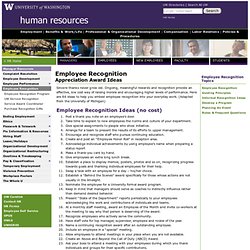 Ongoing, meaningful rewards and recognition provide an effective, low cost way of raising morale and encouraging higher levels of performance. Here are 86 ideas to help you embed employee recognition into your everyday work. (Adapted from the University of Michigan) Employee Recognition Ideas (no cost) Post a thank you note on an employee's door.
---