Moving image
neocinema.com &150; Dogma 2001: The New Rules for Internet Cinema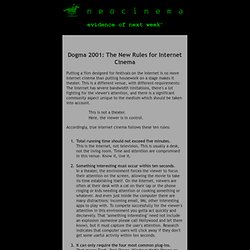 Putting a film designed for festivals on the Internet is no more Internet cinema than putting housework on a stage makes it theater. This is a different venue, with different requirements: The Internet has severe bandwidth limitations, there's a lot fighting for the viewer's attention, and there is a significant community aspect unique to the medium which should be taken into account. Accordingly, true Internet cinema follows these ten rules: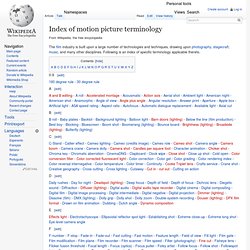 Index of motion picture terminology From Wikipedia, the free encyclopedia Jump to: navigation, search
Video: 90 Days with AIDS - Health - GOOD - StumbleUpon
Department M2 - Home - Skateistan: To Live and Skate&Kabul
Video : JUAN RAYOS
A short experiment with perspective. [VIDEO]
Watch how an act of kindness can spread amongst people - The Feed Blog - CBS...