Foto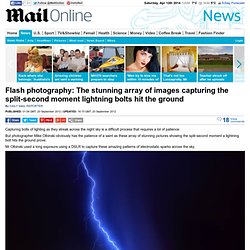 By Daily Mail Reporter Published: 01:08 GMT, 20 September 2012 | Updated: 16:15 GMT, 20 September 2012 Capturing bolts of lighting as they streak across the night sky is a difficult process that requires a lot of patience. But photographer Mike Olbinski obviously has the patience of a saint as these array of stunning pictures showing the split-second moment a lightning bolt hits the ground prove. Mr Olbinski used a long exposure using a DSLR to capture these amazing patterns of electrostatic sparks across the sky. Bolt out of the blue: Photographer Mike Olbinski captured this incredible picture of a lightning bolt striking south Tucson during thunder storms earlier this month
Flash photography: The stunning array of images capturing the split-second moment lightning bolts hit the ground
Hi guys! With Labor Day weekend coming up, I know a lot of us are going to be out there taking pictures! :) Since we have a long weekend to practice, I wanted to share with you this basic intro to SLR photography. If you have an SLR camera and are nervous to take it out of auto mode, this is the tutorial for you. You may have heard words like aperture, exposure, and shutter speed and wondered just how on earth they come together to give you a better photo.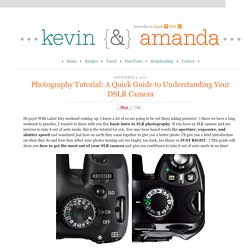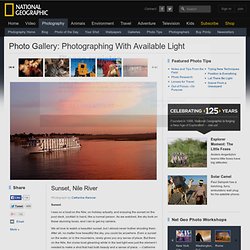 Available Light - Photo Tips by Catherine Karnow - National Geographic
Photograph by Catherine Karnow Sunset I was on a boat on the Nile, on holiday actually, and enjoying the sunset on the pool deck, cocktail in hand, like a normal person. As we watched, the sky took on these stunning tones, and I ran to get my camera.
Alison McCauley - Alison McCauley Photography
Want to keep your kids occupied and learn something new? ArcadeMap.com is now introducing some educational apps to you for keeping your little ones busy and practice their motorskill, creativity, mathematics ability and alphabetic principle while using their iPad/iPhone. 1. Bizzy Bear on the Farm Review Price: $3.99 Developer: FDG Entertainment Age Range: 3 – 12 years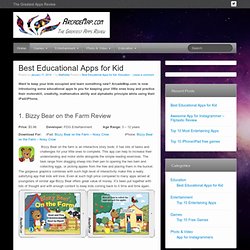 A competitor tumbles off his motorcycle during the Motorcross World Championship at the Volk Mølle race course. (Mogens von Haven) A German World War II prisoner, released by the Soviet Union, is reunited with his daughter. The child had not seen her father since she was one-year-old.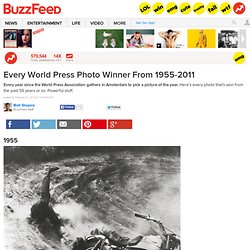 One Photographers Journey Around the World in Over 6,000 Photos - Video - The Atlantic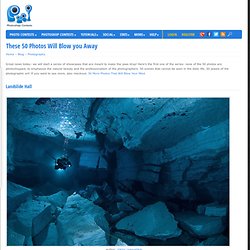 Great news today: we will start a series of showcases that are meant to make the jaws drop! Here's the first one of the series: none of the 50 photos are photoshopped, to emphasize the natural beauty and the professionalism of the photographers. 50 scenes that cannot be seen in the daily life, 50 jewels of the photographic art! If you want to see more, also checkout: 50 More Photos That Will Blow Your Mind Landslide Hall