Word
People often ask me, "Of all the things God has given to you, what is it that has affected you the most?" I would have to say it is the love of God, because His love always takes the very best things about Him and makes them available to us. I know now that the most devastating thing Adam lost to the sin nature was the capacity to love. The first major hurdle I got past in my Christian walk came about when God let me see people through His eyes for just a moment.
Dave Roberson Ministries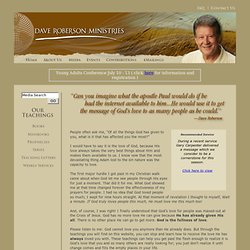 Christian International Ministries Network
The BennyHinn.org website has been redesigned to improve your online experience and the page you requested may be in a different location or using a different URL address. We'd like to help you find what you are looking for. If you typed the page address (URL) in the address bar, make sure that you spelled it correctly. Use the links at the top or bottom of this page to find what your looking for. Use our Search Bar at the top of this page to locate specific topics. If you continue to experience difficulties you can always contact us.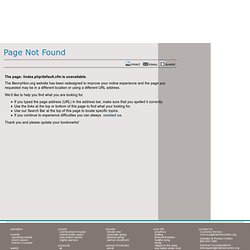 Benny Hinn Ministries
Abundant Life Church - Home
Billy Graham Evangelistic Association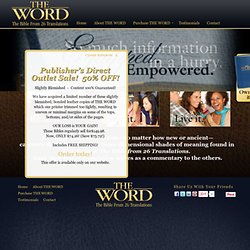 Slightly Blemished - Content 100% Guaranteed! We have acquired a limited number of these slightly blemished, bonded leather copies of THE WORD which our printer trimmed too tightly, resulting in uneven or minimal margins on some of the tops, bottoms, and/or sides of the pages. OUR LOSS is YOUR GAIN!These Bibles regularly sell for$149.98. Now, ONLY $74.26!
The Word - The Bible from 26 Translations
AMAZING Bible Timeline with World History - with Holy Land Maps
The Amazing Bible World History Timeline gives you a quick, organized way to see Bible and World history from Adam to modern times. Take Advantage of our Limited Time Offer! Details below I really enjoy your Bible Timeline.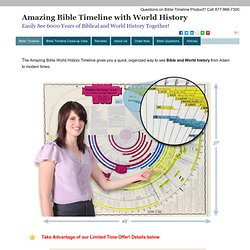 Welcome! Here you will find over 1700 sermons, Bible studies, and PowerPoint files by Mark A. Copeland (more info). They are called "executable" because they were first distributed in an executable DOS program.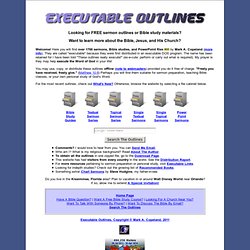 Executable Outlines - Free sermon outlines and Bible studies!
Welcome to the International School of Ministry
Welcome to ISOM! ISOM is the world's largest video Bible school with over 15,000 training sites in 142 countries and over 65 languages, so we encourage you to explore our site and see if there is any way we can help you be more effective in your labors for Christ. Find out what a number of Christian leaders say about ISOM.Learn about Good Shepherd Ministries International, the parent organization of ISOM, WOW and YouthBytes.Know more about what we believe with our statement of faith. We look forward to hearing from you! Continue Reading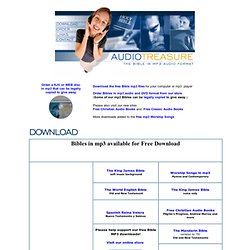 The AudioTreasure site exist to offer audio Bible files for download in as many languages as legally possible. This site serves over 1 million Bible mp3 file downloads per month to 200 nations around the world. The AudioTreasure site is user funded and receives no outside support. Sales from our online store help us continue to pay the growing bandwidth and server cost. Please consider blessing this effort by visiting the store and purchasing an audio Bible for yourself or a loved one.
Wisdom Ministries, Dr. Nasir Siddiki