Smpreso
b2b
List of Social Media Management Systems (SMMS) Pain: Social Media Teams Are Challenged To Respond To the Distributed Conversations I'm starting to get a few briefings and requests from strategists LaSandra Brill, about new technologies that enable social marketers to quickly manage, maintain, and conduct reporting on multiple channels.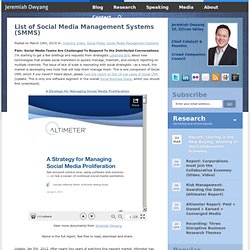 The issue of lack of scale is resonating with social strategists –as a result, the market is developing new tools that will help them manage them. This is one component of Social CRM, which if you haven't heard about, please read the report on the 18 use cases of Social CRM. (Update: This is only one software segment in the overall Social Business Stack, which you should first understand) Above is the full report, feel free to read, download and share. Update: Jan 5th, 2012. Power to the People: 3 Tasty Crowdsourcing Case Studies. For food and drink brands, crowdsourcing new products and flavors makes perfect sense.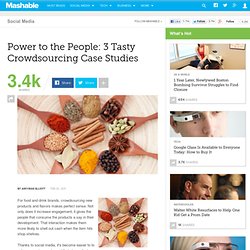 Not only does it increase engagement, it gives the people that consume the products a say in their development. That interaction makes them more likely to shell out cash when the item hits shop shelves. Thanks to social media, it's become easier to to ask your customers to contribute to product development or collaborate on other creative endeavors. Not only is it doable, it's been done, and with great success, by major brands. "This trend is a direct reflection of the new meritocracy caused by the rise of the social web.
Social Footprint Report - Free analysis of your Location Based Social Media footprint for Multilocation businesses - retail, restaurants, and more. Discover the types of customer activity and comments being shared at your locations by requesting a free snapshot report for your brand.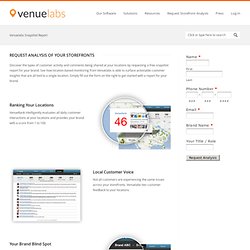 See how location-based monitoring from Venuelabs is able to surface actionable customer insights that are all tied to a single location. Simply fill out the form on the right to get started with a report for your brand. 10 Ways To Measure Your Audience On Facebook. Promoting a brand's image in a setting such as Facebook means creating two-way conversations that eventually lead to more revenues.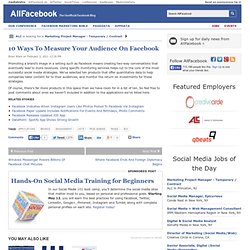 Using specific monitoring services helps cut to the core of the most successful social media strategies. We've selected ten products that offer quantitative data to help companies tailor content for to their audiences, and monitor the return on investments for these strategies. Of course, there's far more products in this space than we have room for in a list of ten. HOW TO: Build a Social Media Education Program for Your Company. The Social Media Marketing Series is supported by Webtrends Facebook Analytics, which provides comprehensive tracking and measurement solutions to help you maximize your ROI.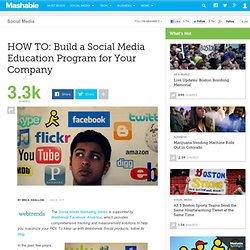 To keep up with Webtrends Social products, follow its blog. In the past few years, businesses have increasingly dedicated resources to creating social media strategies in hopes of boosting site traffic, sales and brand engagement. Six Benchmarks for Digital Marketing Strategy. GERVAS: Goal – Engage – Relationship – Value – Action – Synthesize GERVAS is the tool to guide the development of your social media campaign.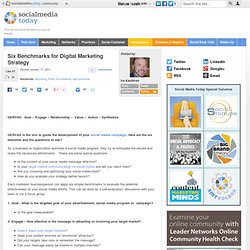 Here are the six elements and the questions to ask? As a business or organization launches a social media program, they try to anticipate the results and make the necessary refinements. These are some typical questions: Brisbane's techies shine during flood crisis - Networking. A confirmation email has been sent to your email address - SUPPLIED GOES EMAIL HERE .
Please click on the link in the email to verify your email address. You need to verify your email before you can start posting. If you do not receive your confirmation email within the next few minutes, it may be because the email has been captured by a junk mail filter. Please ensure you add the domain @itnews.com.au to your white-listed senders. How to Get the M.O.S.T. From Your Social Media Marketing. Many small businesses and solo entrepreneurs dive into social media marketing strategies without visualizing a bigger plan.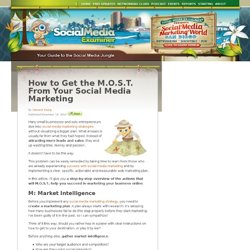 What ensues is usually far from what they had hoped. Instead of , they end up wasting time, money and passion. How to Measure Social Media Marketing Performance. Early efforts in social media marketing have created a tremendous amount of buzz and interest, but surprisingly few case studies focus on monetization.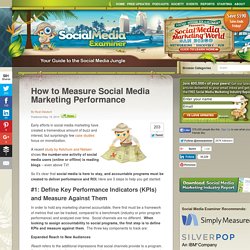 So it's clear that Here are 3 steps to help you get started: #1: Define Key Performance Indicators (KPIs) and Measure Against Them In order to hold any marketing channel accountable, there first must be a framework of metrics that can be tracked, compared to a benchmark (industry or prior program performance) and analyzed over time. Social channels are no different. . The three key components to track are: 55 Interesting Social Media Infographics. 7 Common Social Media Marketing Problems and Their Solutions.
This post is part 2 on Social Media Marketing Best Practices from IMS Minneapolis.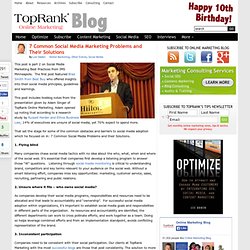 The first post featured Brad Smith from Best Buy who offered insights into their social media principles, guidelines and learnings. This post includes liveblog notes from the presentation given by Adam Singer of TopRank Online Marketing. 11 Myths of Social Media Marketing. Though social media marketing is rapidly advancing in terms of adoption and sophistication, many marketers and business executives still struggle with it. They wonder if their organizations are doing enough, if they are doing things right, even if they should be involved in social media at all. This confusion is partly due to some still-common misconceptions about social media marketing.
Top Five Social Media Marketing Mistakes. Social media initiatives have become standard components of companies' marketing and communications strategies. Large or small—from the local bakery to General Motors (GM)—businesses see the value of engaging in online conversations already taking place about their brands. While social media best practices have emerged, brands still struggle with how best to engage with their consumers.
Here are five common mistakes: 10 Of The Year's Best Facebook Campaigns. Companies have gotten really creative about driving traffic to their social media outlets this year, using viral videos, giveaways, charitable donations and other techniques. So here's a list of ten companies whose Facebook campaigns had tremendous success in 2010. Check out this year's list of ten companies that really excelled on the social network. Social Media Monitoring Tools - How to Pick The Right One | Guest Posts | Social Media Consulting - Convince & Convert. The 8 Wrong Questions PR Firms Are Asking About Social Media | PR 2.0 | Social Media Consulting - Convince & Convert. Why Smart Marketing Is About Help, Not Hype The difference between helping and selling is just two letters.
But those two letters are critically important to your company's success. You're not competing for attention only against other, similar products.
---