Foursquare
Full List of Active Foursquare Badges. Checkmate iPhone App Uses Background Location for Automatic Checkins on Foursquare. Foursquare players too busy painting the town red to go to the trouble of whipping out their iPhone and checking in can sit back and let Checkmate do the work for them.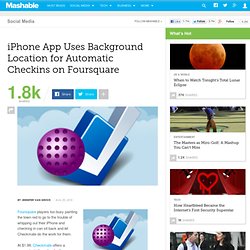 At $1.99, Checkmate offers a convenient alternative for those looking for a passive aggressive way to play the geosocial game. The brand new app harnesses background-running location on the iPhone to check in Foursquare players automatically at specified venues. Foursquare's Future Slowly Takes Shape. A few weeks back, when I met Foursquare CEO and co-founder Dennis Crowley for a coffee in New York, our conversation turned to the future of Foursquare.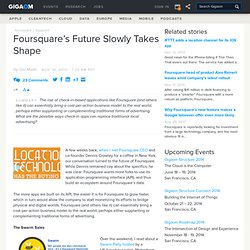 While Dennis remained coy about the specifics, he was clear: Foursquare wants more folks to use its application-programming interface (API), and thus build an ecosystem around Foursquare's data. The more apps are built on its API, the easier it is for Foursquare to grow faster, which in turn would allow the company to start monetizing its efforts to bridge physical and digital worlds.
Foursquare (and others like it) can essentially bring a cost-per-action business model to the real world, perhaps either supplanting or complementing traditional forms of advertising. The Swarm Sales Over the weekend, I read about a Swarm Party hosted by a UK-based tea salon, Metrodeco. Visualize your Foursquare check-ins - WeePlaces.com.
Foursquare Mayors Get 25% Off at Ann Taylor [Exclusive] Women's clothing retailer Ann Taylor has just launched its first Foursquare promotion.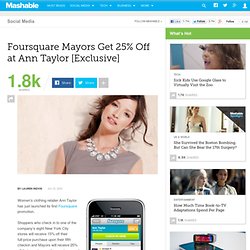 Shoppers who check in to one of the company's eight New York City stores will receive 15% off their full-price purchase upon their fifth checkin and Mayors will receive 25% off their purchases of non-sale apparel and accessories. The campaign is still in a trial phase. If successful, Ann Taylor plans to extend the promotion to its 279 stores nationwide. Why the Fashion Industry Loves Foursquare. Macala Wright Lee is the Founder of FashionablyMarketing.Me, one of the web's leading digital marketing blogs for fashion, luxury and lifestyle industries.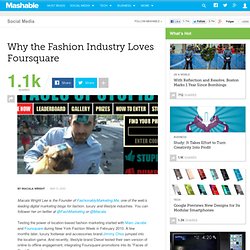 You can follower her on twitter at @FashMarketing or @Macala. Testing the power of location-based fashion marketing started with Marc Jacobs and Foursquare during New York Fashion Week in February 2010. A few months later, luxury footwear and accessories brand Jimmy Choo jumped into the location game. And recently, lifestyle brand Diesel tested their own version of online to offline engagement, integrating Foursquare promotions into its "Faces of Stupid" campaign. "With the rise of mobile, the mixing of the web with the physical world seems only like the natural evolution of things.
Digital, Life, Design 2010: Location. Bio Rafat Ali Rafat Ali is the CEO and founder of Skift, which is an early-stage travel intelligence startup that offers news, insight, advice, tools, and services to the travel industry and business travellers.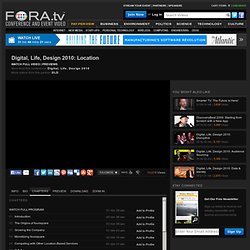 Previously, he was the founder and CEO of paidContent and ContentNext, which he sold to the UK's Guardian News and Media in 2008, and left in 2010. Prior to that, he was managing editor of Silicon Alley Reporter. Five Ways to Make Productive Use of Foursquare (and Not Be Annoying) - Foursquare - Lifehacker. Use Foursquare to Catch a Pair of Jimmy Choos. Jimmy Choo, a world-renowned footwear brand, is organizing a real-time treasure hunt around London via Foursquare.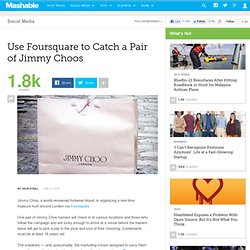 One pair of Jimmy Choo trainers will check in at various locations and those who follow the campaign and are lucky enough to arrive at a venue before the trainers leave will get to pick a pair in the style and size of their choosing. Contestants must be at least 16 years old. 10 Foursquare Apps You Can Use Right Now. The opening of Twitter's API transformed the service from an interesting web site into the communications plumbing that serves homepages, newsrooms, and smartphones all over the world.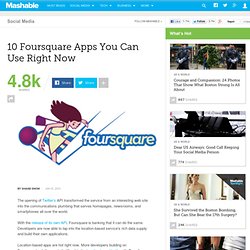 With the release of its own API, Foursquare is banking that it can do the same. Developers are now able to tap into the location-based service's rich data supply and build their own applications. Location-based apps are hot right now. More developers building on Foursquare's platform only fortifies it in the location-based battle with Gowalla, Loopt, Brightkite, and others. WSJ Experiments With Location-Based News. Checking-in at a venue around town with the Foursquare mobile location app could now come with a thought provoking payload: a news link related to the place you're at.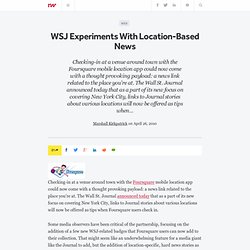 The Wall St. Journal announced today that as a part of its new focus on covering New York City, links to Journal stories about various locations will now be offered as tips when Foursquare users check in. Some media observers have been critical of the partnership, focusing on the addition of a few new WSJ-related badges that Foursquare users can now add to their collection. That might seem like an underwhelming feature for a media giant like the Journal to add, but the addition of location-specific, hard news stories as tips is a very intriguing experiment that could point to a big new future for news.
It also looks like a lot of fun. Foursquare Makes it Easy for Businesses to Sign Up. Foursquare is making it easier than ever for businesses to offer venue promotions and get insight on their Foursquare traction.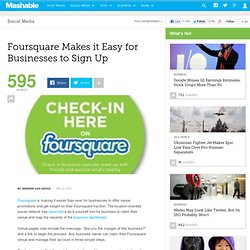 The location-oriented social network has launched a do-it-yourself tool for business to claim their venue and reap the rewards of the business dashboard. Venue pages now include the message, "Are you the manger of this business? " and a link to begin the process. Any business owner can claim their Foursquare venue and manage their account in three simple steps.
The feature set officially went live yesterday and the company already has plans to fine tune the process, as well as build out functionality to better serve businesses. FourWhere: start discovering the world around you (by sysomos) Five Ways Businesses Can Leverage Foursquare in Marketing Efforts, from Affect Strategies. Check-Ins are Coupons. Game Mechanics are Bullshit. Show Me The MONEY or Go Home (Loser) (shameless plug: May 12 SMASHsummit.com social media marketing conference - get a 20% discount at bottom of this worthless & wildly speculative post) For everyone out there wondering if i'll ever return your phone calls or emails, my apologies... i have a bunch of rather significant not-quite-finished projects on my plate right now, along with the usual deals & events & insanity.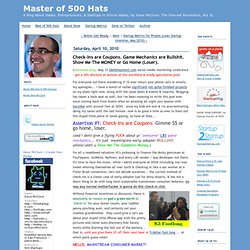 Blogging has taken a back seat as well, but i've been meaning to write this post ever since coming back from Austin after an amazing all-night jam session with GaryVee until around 7am at SXSW. since my kids are sick & i'm procrastinating doing my taxes until the last minute, now is as good a time as ever to blast out this stupid little piece of navel-gazing. so have at thee... Assertion #1: Check-Ins are Coupons. Gimme $5 or go home, loser. (and i don't give a flying FUCK about yr "awesome" LBS game mechanics... it's just meaningless early-adopter BULLshit unless/until u Show Me The Goddamn Money.)
---