Comedians
Home When I was ten years old, I started watching stand up comedians on TV. I fell in love with them and I'm just as fascinated with stand up comedy today. When I started doing TV, I saved every appearance on every show I did. I thought it might be fun to go through all of it and pick out three bits each day that still amuse me for some reason or another. I've also included stuff I'm doing now, and I'll be adding new stuff as I go.
Jerry Seinfeld - Personal Archives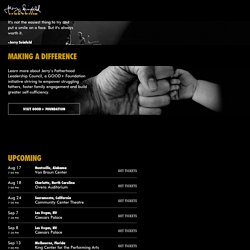 Jerry Seinfeld Live on Broadway: I'm Telling You for the Last Time: Jerry Seinfeld, Michael Barryte, Grace Bustos, George Carlin, Alan King, Robert Klein, Carol Leifer, Jay Leno, Ed McMahon, Larry Miller, Paul Reiser, Garry Shandling, Gabriel Beristain, M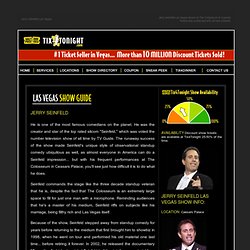 Jerry Seinfeld Las Vegas
He is one of the most famous comedians on the planet. He was the creator and star of the top rated sitcom "Seinfeld," which was voted the number television show of all time by TV Guide. The runaway success of the show made Seinfeld's unique style of observational standup comedy ubiquitous as well, as almost everyone in America can do a Seinfeld impression... but with his frequent performances at The Colosseum in Ceasars Palace, you'll see just how difficult it is to do what he does. Seinfeld commands the stage like the three decade standup veteran that he is, despite the fact that The Colosseum is an extremely large space to fill for just one man with a microphone.
Seinlanguage (9780553385731): Jerry Seinfeld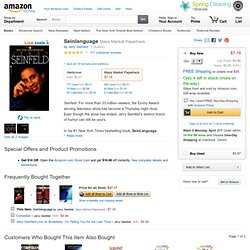 Amazon.com Review Seinlanguage could easily be subtitled The World According to Jerry. First published in 1993, when Seinfeld the sitcom was establishing itself as the funniest half-hour on television, this is a collection of Jerry's musings on everything from relationships to shushing in movie theatres. Observational comedy may have reached epidemic proportions recently, but Jerry Seinfeld was, and is, the master of his domain. "I will never understand why they cook on TV. I can't smell it.
Comedian: Jerry Seinfeld: Movies & TV
This ends up being less a documentary about comedy and more a character study of a mature and an immature craftsman. The craft here is comedy, but it really could be anything, especially any type of art. A friend and I watched this and afterwards talked about how well Jerry Seinfeld and Orny Adams illustrate the principles of leadership. Jerry Seinfeld is the portrait of a mature craftsman.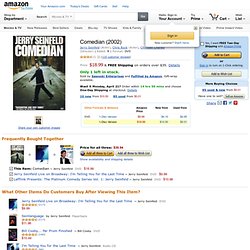 YouTube
Wondering how to get your own stand-up career off the ground? Check out these helpful tips on how to get started in comedy, from how to develop material to where you should begin performing. How to Break into Stand-up: 10 Tips for Beginner ComediansStarting out in stand-up comedy can be overwhelming and a little scary. Before you freak out, check out this helpful list of tips on improving your act and getting over failure for new and struggling stand-up comedians. Organizing an Open Mic Reader Responses - Open Mic Reader ResponsesIf you've hosted your own comedy open mic, here's where you can share how you made sure it was a success. Help other readers host their open mics and break into stand-up comedy with your experiences.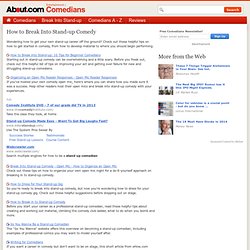 How to Break Into Stand-up Comedy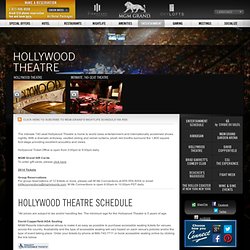 Las Vegas Shows - Comedy Shows - Magic Shows - Entertainers : MGM Grand Hotel & Casino
The intimate 740-seat Hollywood Theatre is home to world class entertainment and internationally acclaimed shows nightly. With a dramatic entryway, vaulted ceiling and velvet curtains, plush red booths surround the 1,800 square foot stage providing excellent acoustics and views. Hollywood Ticket Office is open from 3:00pm to 9:00pm daily. MGM Grand Gift CardsTo order gift cards, please click here. 2014 Tickets
Entries Tagged as 'Comedians' Spamalot at Wynn as Vegas to Close July 13 April 18th, 2008 · No Comments
Comedians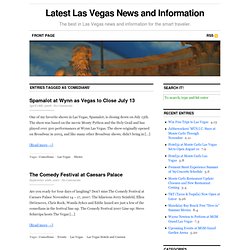 Yes, @Gary_Burghoff is drunk-tweeting his memories of the 1976 #BattleoftheNetworkStars. This needs to be David O Russell's next movie. 5:18 AM Today RIP Russell Johnson. Now God has to do what I never could: choose between Ginger and Mary Ann. 9:32 PM Jan 17 .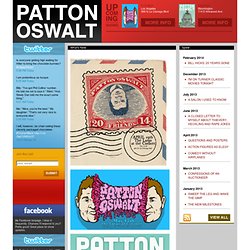 wtime Official Site :: Schedules :: Program Details :: Patton Oswalt Finest Hour
Werewolves and Lollipops (W/DVD): Curt Rosen: Music
Patton Oswalt: My Weakness Is Strong (DVD / CD Combo): Patton Oswalt, Jason Woliner: Movies & TV
Finest Hour: Patton Oswalt: Music
JimGaffigan.com
King Baby: Jim Gaffigan: MP3 Downloads