Comedians
George Carlin
Here is my problem with the ten commandments- why exactly are there 10? You simply do not need ten. The list of ten commandments was artificially and deliberately inflated to get it up to ten. Here's what happened: About 5,000 years ago a bunch of religious and political hustlers got together to try to figure out how to control people and keep them in line.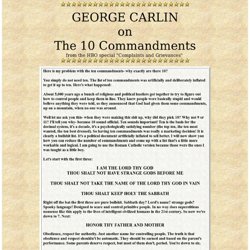 GEORGE CARLIN - The Ten Commandments
Jerry Seinfeld - Personal Archives
Jerry Seinfeld Live on Broadway: I'm Telling You for the Last Time: Jerry Seinfeld, Michael Barryte, Grace Bustos, George Carlin, Alan King, Robert Klein, Carol Leifer, Jay Leno, Ed McMahon, Larry Miller, Paul Reiser, Garry Shandling, Gabriel Beristain, M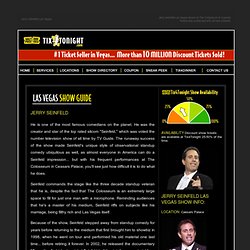 Jerry Seinfeld Las Vegas
He is one of the most famous comedians on the planet. He was the creator and star of the top rated sitcom "Seinfeld," which was voted the number television show of all time by TV Guide. The runaway success of the show made Seinfeld's unique style of observational standup comedy ubiquitous as well, as almost everyone in America can do a Seinfeld impression... but with his frequent performances at The Colosseum in Ceasars Palace, you'll see just how difficult it is to do what he does. Seinfeld commands the stage like the three decade standup veteran that he is, despite the fact that The Colosseum is an extremely large space to fill for just one man with a microphone.
Seinlanguage (9780553385731): Jerry Seinfeld
Comedian: Jerry Seinfeld: Movies & TV
Jerry Seinfeld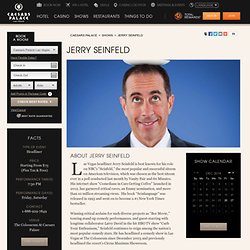 Show Calendar E mmy and Golden Globe Award winner and entertainment icon Jerry Seinfeld was born in Brooklyn, New York and grew up in Massapequa, Long Island. He graduated from Queens College in 1976 and went straight to the New York comedy club circuit to hone his skills.
YouTube
Wondering how to get your own stand-up career off the ground? Check out these helpful tips on how to get started in comedy, from how to develop material to where you should begin performing. Starting out in stand-up comedy can be overwhelming and a little scary. Before you freak out, check out this helpful list of tips on improving your act and getting over failure for new and struggling stand-up comedians. If you've hosted your own comedy open mic, here's where you can share how you made sure it was a success.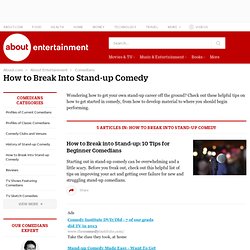 How to Break Into Stand-up Comedy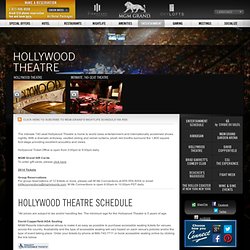 Las Vegas Shows - Comedy Shows - Magic Shows - Entertainers : MGM Grand Hotel & Casino
March 1-6 & 14-31 : Hollywood Theatre David Copperfield has been hailed by audiences and critics alike as the greatest illusionist of our time. In addition to decades of network television events, worldwide tours, and "Dreams and Nightmares," the critically acclaimed Broadway show that set box-office records, he has been featured on the covers of Forbes, Architectural Digest and Esquire. See David Copperfield live at MGM Grand. Show times: Sun-Sat 7pm & 9:30pm, Sat matinee 4pm. (THE FOLLOWING 9:30PM SHOWS HAVE BEEN CANCELLED - MARCH 3, 17, & 24)
Entries Tagged as 'Comedians' Spamalot at Wynn as Vegas to Close July 13 April 18th, 2008 · No Comments
Comedians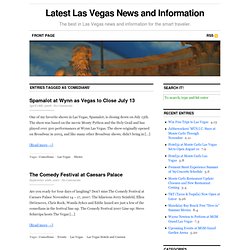 Actor, writer and producer DAVID KOECHNER grew up in Tipton, Missouri, working for his father in the family's turkey coop manufacturing business. He studied political science at Benedictine College in Atchison, Kansas, and then transferred to the University of Missouri. After college, Koechner moved to Chicago, where he studied improvisation at the IO (formerly the ImprovOlympic) with Del Close and Charna Halpern. He went on to become an ensemble member of Second City Northwest. From there, he spent one season on the cast of Saturday Night Live before moving to Los Angeles, where he landed guest appearances on Curb Your Enthusiasm, Reno 911 and played a recurring character on Still Standing. He co-starred in indie films such as Dill Scallion, Wakin' Up in Reno, Dropping Out, and Run Ronnie Run, while turning solid performances in studio comedies such as Out Cold, My Boss' Daughter and A Guy Thing.
David Koechner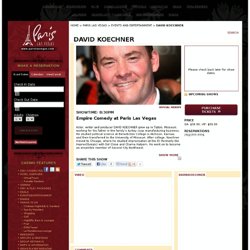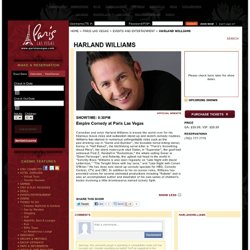 Harland Williams
Comedian and actor Harland Williams is known the world over for his hilarious movie roles and outlandish stand-up and sketch comedy routines. Williams has starred in numerous unforgettable roles such as the pee-drinking cop in "Dumb and Dumber", the loveable horse-killing stoner, Kenny in "Half Baked", the hitchhiking serial killer in "There's Something About Mary", the silent motorcycle stud Slater, in "Superstar", the goof-ball astronaut Fred Z. Randall in "Rocketman," the whale-calling Sonar in "Down Periscope", and Roberta, the ugliest red head in the world in "Sorority Boys." Williams is also seen regularly on "Late Night with David Letterman," "The Tonight Show with Jay Leno," and "Late Night with Conan O'Brian." He has done solo stand-up comedy specials for HBO, Comedy Central, CTV, and CBC.
Patton Oswalt
wtime Official Site :: Schedules :: Program Details :: Patton Oswalt Finest Hour
Werewolves and Lollipops (W/DVD): Curt Rosen: Music
Patton Oswalt: My Weakness Is Strong (DVD / CD Combo): Patton Oswalt, Jason Woliner: Movies & TV
Finest Hour: Patton Oswalt: Music
JimGaffigan.com
King Baby: Jim Gaffigan: MP3 Downloads
JimGaffigan.com