Apps
Read It Later. AndroidZoom - Download thousands of Android applications from the Android Market. 30 best free Android apps. 21.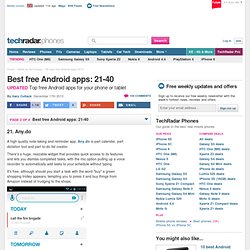 Any.do A high quality note-taking and reminder app, Any.do is part calendar, part dictation tool and part to-do list creator. There's a huge, resizable widget that provides quick access to its features and lets you dismiss completed tasks, with the mic option pulling up a voice recorder to automatically add tasks to your schedule without typing. 50 really useful Android tips and tricks. UPDATE: If you have Android 2.2, check out our 20 handy Android 2.2 tips and tricks.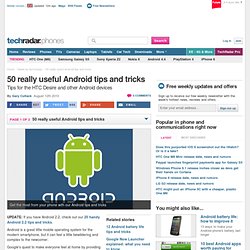 Android is a great little mobile operating system for the modern smartphone, but it can feel a little bewildering and complex to the newcomer. Google's quest to make everyone feel at home by providing layer upon layer of option screens and hundreds of tweakable settings can leave people a little lost, plus there's your widgets to worry about, the Home screen layout and much more hidden beneath Google's green bonnet. 10 best tablet PCs in the world today So here, to make things a little easier for Android newcomers and those seeking a few more power tips, we present 50 essential Android facts and techniques. These tips are mostly for the 2.1 version of Android, which is by far the most common form of the OS out there today - but much of the advice will also work on older and newer versions and those boutique varieties skinned by some hardware makers.
Mobile Tips | MakeUseOf.com. Our smartphones carry a lot of personal information.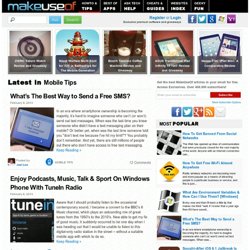 All of your text messages, emails, notes, apps, app data, music, pictures, and so much more are all on there. While it's a very great convenience to have all of these on your phone, it's also a major security risk if all of this data is easily accessible. Android -- Download Squad. CyanogenMod 7.0 now stable, released for over 30 Android devices by Matthew Rogers on April 11, 2011 at 04:00 AM It's official, folks!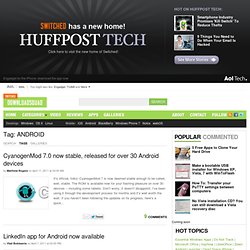 CyanogenMod 7 is now deemed stable enough to be called, well, stable. Airport Remote iPhone App. Bright AI - Home - Mobile Made Easy - iPhone, Java, BlackBerry and Android Development and Services. Silica. AshtonBRSC Android Apps. Springpad: a free app that helps you remember. RAC Traffic mobile app for iPhone and Android. The ultimate one-stop RAC app means you can now access our services anytime, anywhere – find all those benefits, including our popular route planner and traffic news, at your fingertips when you need them most.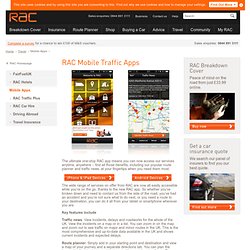 The wide range of services on offer from RAC are now all easily accessible while you're on the go, thanks to the new RAC app. So whether you've broken down and need to contact us from the side of the road, you've had an accident and you're not sure what to do next, or you need a route to your destination, you can do it all from your tablet or smartphone wherever you are. Key features include Traffic news. View incidents, delays and roadworks for the whole of the UK. Goggles for Android. There are some things that are hard to put in words, like a painting that you want to find out the artist of.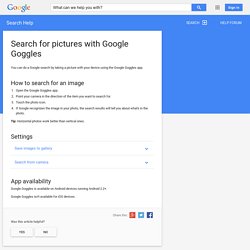 For searches like that, try Google Goggles -- it lets you search the web using photos that you've taken on your mobile phone. So just open the Goggles app on your phone, snap a photo of that painting, and find search results all about it. Sometimes pictures really are worth a thousand words. Best search queries Google Goggles works better with certain types of queries. Goggles for Android. T-Mobile - Android Applications. AndWobble2. Quickoffice » Home. Big in Japan | ShopSavvy Barcode Scanner App | iPhone • Android • Windows Phone 7 • Blackberry • WebOS. The Place to Create & Manage 2D Barcodes. *Both Basic and Basic + have strict limited commercial use policies, and are not available for brands, agencies, resale, large retailers, and enterprises.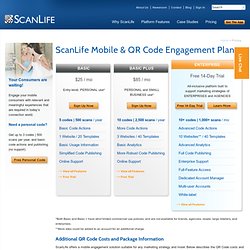 **More sites could be added to an account for an additional charge. ScanLife offers a mobile engagement solution suitable for any marketing strategy and more! Below describes the QR Code costs and creation plans offered from entry-level personal use to enterprise level. Whatever your QR Code need, ScanLife has the right scalable mobile engagement solution for you! Augmented Reality - Layar Reality Browser - Homepage.
Forums.weather.com • Index page. Help. Track Your Running, Measure Your Fitness, and Improve Your Training. MapMyRide.com - Map your Cycling, Compete against Lance in the Tour de France Challenge, Tour de France Maps, Bike Map and Mountain Biking Routes and join our Cycling Community of Cyclists. Cycling GPS for Cycling Social Network, iPhone, Topo Maps, Elevat.
Android Apps. White Noise for Android provides 40 ambient sounds of the environment to help you relax or sleep.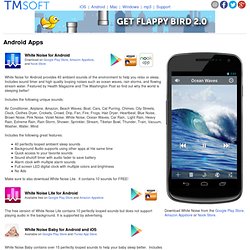 Includes sound timer and high quality looping noises such as ocean waves, rain storms, and flowing stream water. Featured by Health Magazine and The Washington Post so find out why the world is sleeping better! Includes the following unique sounds: Air Conditioner, Airplane, Amazon, Beach Waves, Boat, Cars, Cat Purring, Chimes, City Streets, Clock, Clothes Dryer, Crickets, Crowd, Drip, Fan, Fire, Frogs, Hair Dryer, Heartbeat, Blue Noise, Brown Noise, Pink Noise, Violet Noise, White Noise, Ocean Waves, Car Rain, Light Rain, Heavy Rain, Extreme Rain, Rain Storm, Shower, Sprinkler, Stream, Tibetan Bowl, Thunder, Train, Vacuum, Washer, Water, Wind Includes the following great features:
MapMyRun.com - Map your Run, Running Routes. Find Runs Anywhere. Join our Running Community of Runners. Run GPS, GPS, Running Social Network. Google Map Run, Calculate Calories, Online Pedometer, Distance, iPhone, and More. WordPlayer:Reading Released. Laputareader.com.
Make the most of Skype - free internet calls and great value calls. Mobile Payments - Send Money from Your Mobile Phone.
---