USEFUL
'Geometric shapes' is the term applied to the study of basic shapes, composed of points, lines and simple curves (such as circles). At this site, you will find an outline of basic geometry information required by Kindergarten through sixth grade students. No matter where your search takes you in the realm of elementary geometry, you will find what you seek right here. It could be a quick geometry reference of shapes and their names, geometry formula or perhaps a geometry glossary - it's here.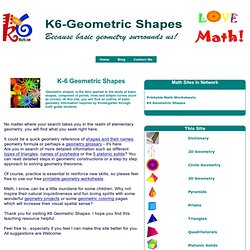 Geometric Shapes. Your One Stop Basic Geometry Resource
How Much Caffeine in a Cup of Coffee
Your Source For Caffeine Information Everyone enjoys a nice cup of coffee, but how much caffeine are you consuming in a cup of coffee? A typical cup of coffee has about 112 milligrams of caffeine while a shot of espresso likely has about 90 milligrams of caffeine.
Coffee and Caffeine, Which Brewing Method Has the Most? | weeklyroast.com coffee blog
Misconception Junction
Bible Topics