Tutorial
Learn to Program, by Chris Pine. A Place to Start for the Future Programmer I guess this all began back in 2002.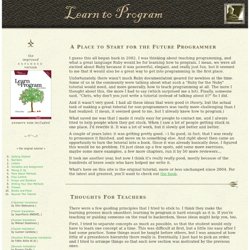 I was thinking about teaching programming, and what a great language Ruby would be for learning how to program. I mean, we were all excited about Ruby because it was powerful, elegant, and really just fun, but it seemed to me that it would also be a great way to get into programming in the first place. Documentation. Here you will find pointers to manuals, tutorials and references that will come in handy when you feel like coding in Ruby.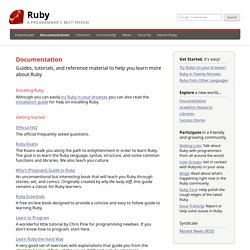 Getting Started Try Ruby! An interactive tutorial that lets you try out Ruby right in your browser. This 15-minute tutorial is aimed at beginners who want to get a feeling of the language. Ruby Programming Language. Getting Started with Rails. 1 Guide Assumptions This guide is designed for beginners who want to get started with a Rails application from scratch.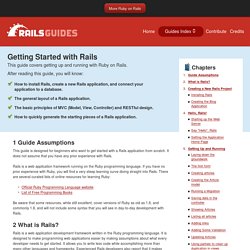 It does not assume that you have any prior experience with Rails. However, to get the most out of it, you need to have some prerequisites installed: The Ruby language version 1.9.3 or newer.The RubyGems packaging system, which is installed with Ruby versions 1.9 and later. Ruby Quiz. Ruby Tutorial - Learn Ruby. Ruby Essentials. Ruby Tutorial. Top 12 Ruby on Rails Tutorials. A former student asked me a few days ago how I learned Ruby on Rails.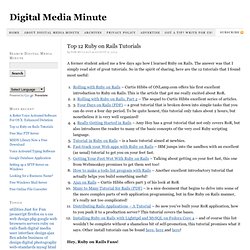 The answer was that I simply read alot of great tutorials. So in the spirit of sharing, here are the 12 tutorials that I found most useful:
---