Tools - Ebook Management and Creation Tools
The big list of free Kindle tools. There are quite a few programs and web services that can be really useful to Kindle owners.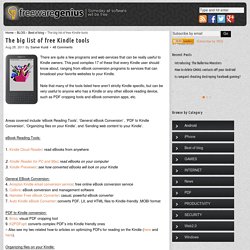 This post compiles 17 of these that every Kindle user should know about, ranging from eBook conversion programs to services that can broadcast your favorite websites to your Kindle. Note that many of the tools listed here aren't strictly Kindle specific, but can be very useful to anyone who has a Kindle or any other eBook reading device, such as PDF cropping tools and eBook conversion apps, etc. Areas covered include 'eBook Reading Tools', 'General eBook Conversion' , 'PDF to Kindle Conversion', 'Organizing files on your Kindle', and 'Sending web content to your Kindle'. eBook Reading Tools: E-book management. The ABCs of e-book format conversion: Easy Calibre tips for the Kindle, Sony and Nook. By John Schember Welcome to TeleRead's newest contributor, John Schember, a member of the team behind the wonderful Calibre program for managing e-book collections.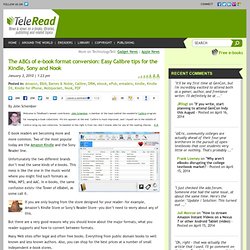 His bio appears at the end. Calibre is much improved, and I myself am in the middle of Calibre-izing my own collection. Convert a PDF eBook to ePub Format for Your iPad, iPhone, or eReader. Would you like to read a PDF eBook on an eReader or mobile device, but aren't happy with the performance?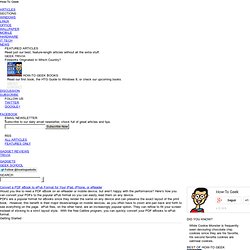 Here's how you can convert your PDFs to the popular ePub format so you can easily read them on any device. PDFs are a popular format for eBooks since they render the same on any device and can preserve the exact layout of the print book. However, this benefit is their major disadvantage on mobile devices, as you often have to zoom and pan back and forth to see everything on the page. ePub files, on the other hand, are an increasingly popular option. They can reflow to fill your screen instead of sticking to a strict layout style. Everything you need to know about PDF. Or PDF is by far the most popular format for documents these days.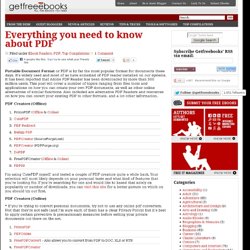 It's widely used and most of us have somekind of PDF reader installed on our systems. It has been reported that Adobe PDF Reader has been downloaded by more than 300 million users. Convert a PDF file into a .MOBI or AZW (Kindle) Compatible File. PDF Printer and Converter — #1 Free PDF Creator — PrimoPDF. Using Primo PDF. How to Append PDF Files Free.
Desktop Publishing. Demonstration using Scribus (Open Source [free] Desktop Publishing) Instapaper: Save interesting web pages for reading later. Free Office Suite to help make your own Ebook. Free Illustration Software to help make your own Ebook.
---