Software
Features We created Giotto for designers, not coders Giotto is the free Flash animation package made for you to design, not to code. With Giotto you can relax and focus your imagination on creative concepts, integrating stunning graphics and music into masterpieces of design. The latest versions of Adobe® Flash® are moving away from designers. They are becoming more and more oriented towards coders.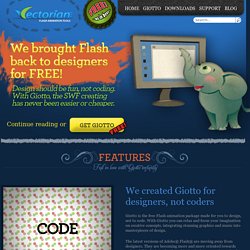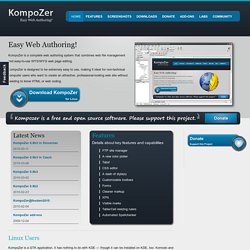 Linux Users KompoZer is a GTK application, it has nothing to do with KDE — though it can be installed on KDE, too. Komodo and the Kernel aren't KDE applications either. ;-) KompoZer 0.7.10 is not compatible with GTK ≥ 2.14, hence the crashes on some recent Linux distros like Ubuntu 8.10 and 9.04. Please upgrade to KompoZer 0.8. Contribute!
wmd - The Wysiwym Markdown Editor
Finally, a free cross-browser WYSIWYG editor that's packed with every rich-text editing feature you need to make your content management system that much better. Setting up openWYSIWYG is so easy, you can quickly turn any <textarea> into a powerful WYSIWYG editor with just a few simple lines of code. Packed with every rich text editing feature you need, openWYSIWYG gives you total control over formatting your text. The ultimate <textarea> replacement for your content management system. What makes openWYSIWYG so unique?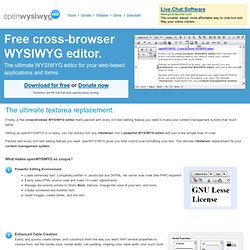 * Arachnophilia
Core Features HTML, CSS, and JavaScript Code Assist Code Assist helps you author HTML, CSS and JavaScript code more quickly.
Studio
Nvu Web Authoring Software
NetObjects Fusion Essentials Free Web Design Software is one of the most popular web design tools available today. A true drag-and-drop website builder with numerous easy-to-use tools and components that allow you to build sites quickly and easily. Plain and simple, NetObjects Fusion Essentials is different. NetObjects Fusion Essentials is a HTML generator instead of a HTML editor. What does that mean?
Free Website Design Software