Photoshop
Photoshop Tutorials Search Engine. Photoshop Tutorials is a custom search of the following sites: abduzeedo.com bestphotoshoptutorials.net.
Photoshop Brushes Search Engine. Photoshop Brushs. 12 Free Repeating Pixel Patterns for Photoshop. Repeating patterns are a great resource to add detail and texture to any website or interface design.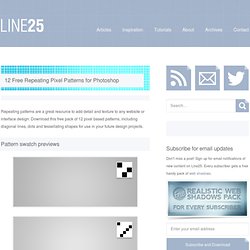 Download this free pack of 12 pixel based patterns, including diagonal lines, dots and tessellating shapes for use in your future design projects. All the patterns are contained within a Photoshop .pat file. Create a Still Life Candle in Photoshop. Still life compositions are like photographs in that they portray the details of objects as moments frozen in time.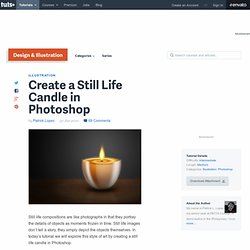 Still life images don't tell a story, they simply depict the objects themselves. In today's tutorial we will explore this style of art by creating a still life candle in Photoshop. Resources Used. Tips » Build Animated GIFs in Photoshop. If you've ever wondered how to create animated GIFs in Photoshop, we've created a simple tutorial with some example files you can download and try out.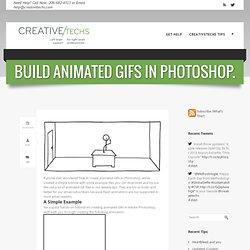 We use a lot of animated GIF files in our weekly tips. They are fun to build, and better for our email subscribers because Flash animations are not supported in most email readers. A Simple Example.
---