Information
Find Free Books Online | education in a knowledge society - center for knowledge society
Chinavasion | Electronics Gadgets Blog » How To Get Completely Free Ebooks We Review 7 Free Ebook Sites
Not only do MP4 players like the CVSJ-1316-8GB make great e-book readers you can get books for them for free. It's funny that the written word has flourished in this digital age, despite the ongoing plight of newspapers and radio stations. Sales for trade ebooks were worth $14 million for June in the US alone, 132% more than what sales were last year according to the Association of American Publishers. It appears authors are likely to have a long and healthy future, even though the world is heading more and more towards digital media.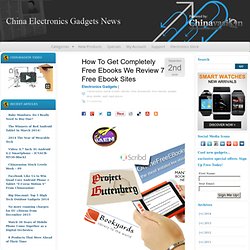 Free ebooks are meant to be read and enjoyed by everybody regardless of physical imperfections, hence why this post is being made, although I must admit that this should be the first post that should be posted here. Having said that, do join me in the journey to increase this list of resources to make it a comprehensive one, to provide and create the proper accessibility channels. I'm sure there are other list out there which covers some of the areas below, but I do hope this post will somehow be a part of the whole effort in making this a reality. Audio Ebooks Been covered here, 35 total sites found so far providing free downloadable audio ebooks. Adobe Reader 9 Accessibility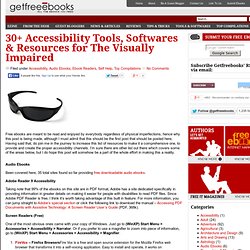 Why Preserve Books? The New Physical Archive of the Internet Archive
by Brewster Kahle, June 2011 Press on this: NYtimes Books are being thrown away, or sometimes packed away, as digitized versions become more available. This is an important time to plan carefully for there is much at stake.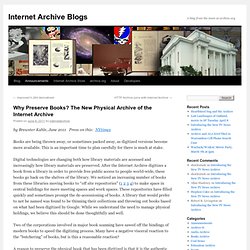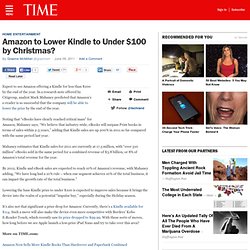 Expect to see Amazon offering a Kindle for less than $100 by the end of the year. In a research note offered by Citigroup, analyst Mark Mahaney predicted that Amazon's e-reader is so successful that the company will be able to lower the price by the end of the year. Noting that "eBooks have clearly reached critical mass" for Amazon, Mahaney says, "We believe that industry-wide, eBooks will surpass Print books in terms of sales within 2-3 years," adding that Kindle sales are up 200% in 2011 so far compared with the same period last year. Mahaney estimates that Kindle sales for 2011 are currently at 17.5 million, with "over 310 million" eBooks sold in the same period for a combined revenue of $3.8 billion, or 8% of Amazon's total revenue for the year. By 2012, Kindle and eBook sales are expected to reach 10% of Amazon's revenue, with Mahaney adding, "We have long had a 10% rule – when one segment achieves 10% of the total business, it can impact the growth rate of the total business."
Amazon to Lower Kindle to Under $100 by Christmas?