Image, Video, Slideshow
Fancybox - Fancy lightbox alternative. ColorBox - customizable lightbox plugin for jQuery 1.3 & 1.4. A lightweight customizable lightbox plugin for jQuery Fork me on GitHub View Demos.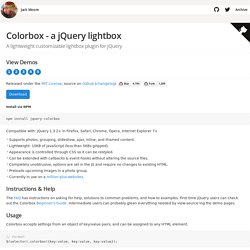 Nivo Slider - The Most Awesome jQuery Image Slider. jQuery & WordPress Image Slider The Nivo Slider is world renowned as the most beautiful and easy to use slider on the market.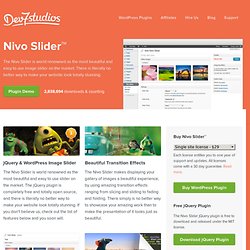 The jQuery plugin is completely free and totally open source, and there is literally no better way to make your website look totally stunning. Galleriffic | A jQuery plugin for rendering fast-performing photo galleries. Galleriffic is a jQuery plugin that provides a rich, post-back free experience optimized to handle high volumes of photos while conserving bandwidth.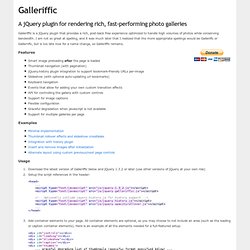 I am not so great at spelling, and it was much later that I realized that the more appropriate spellings would be Gallerific or Gallerrific, but is too late now for a name change, so Galleriffic remains. Features. Flip! A jQuery plugin v0.9.9. Flip is a jQuery plugin that will flip easily your elements in four directions.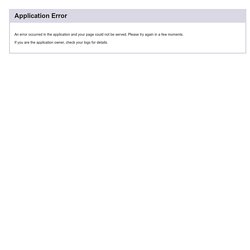 Try it How to use? Like every jquery plugin, just chain it: How to change content? Add content params in this way: Supersized - Full Screen Background/Slideshow jQuery Plugin. jCarousel - Riding carousels with jQuery. InnerFade with jquery. What is it?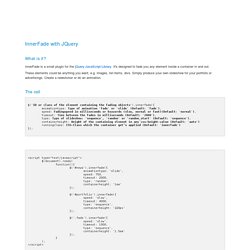 InnerFade is a small plugin for the jQuery-JavaScript-Library. It's designed to fade you any element inside a container in and out. These elements could be anything you want, e.g. images, list-items, divs. Simply produce your own slideshow for your portfolio or advertisings. Flash Video Player for the Web. JQuery Cycle Plugin. Check out Cycle2, the latest in the Cycle line of slideshows.
The jQuery Cycle Plugin is a slideshow plugin that supports many different types of transition effects. It supports pause-on-hover, auto-stop, auto-fit, before/after callbacks, click triggers and much more. It also supports, but does not require, the Easing Plugin. The plugin provides a method called cycle which is invoked on a container element. Each child element of the container becomes a "slide".
---