Image, Video, Slideshow
Fancybox - Fancy lightbox alternative
A lightweight customizable lightbox plugin for jQuery Fork me on GitHub View Demos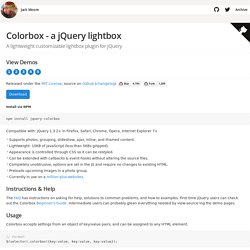 Overview jQuery lightBox plugin is simple, elegant, unobtrusive, no need extra markup and is used to overlay images on the current page through the power and flexibility of jQuery´s selector. lightBox is a plugin for jQuery .
The world's most awesome jQuery & WordPress Image Slider The Nivo Slider is world renowned as the most beautiful and easy to use slider on the market. The jQuery plugin is completely free and totally open source, and there is literally no better way to make your website look totally stunning.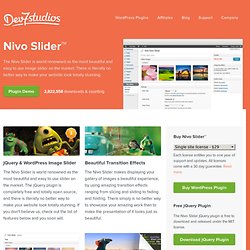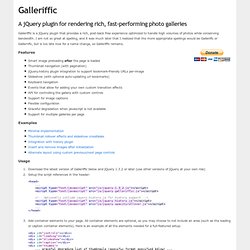 Galleriffic is a jQuery plugin that provides a rich, post-back free experience optimized to handle high volumes of photos while conserving bandwidth. I am not so great at spelling, and it was much later that I realized that the more appropriate spellings would be Galle rif ic or Galle rrif ic, but is too late now for a name change, so Galleriffic remains. Features
Galleriffic | A jQuery plugin for rendering fast-performing photo galleries
Flip is a jQuery plugin that will flip easily your elements in four directions. Try it How to use? Like every jquery plugin, just chain it: How to change content? Add content params in this way: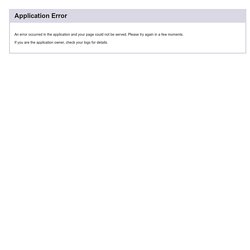 jCarousel - Riding carousels with jQuery
I highly recommend to try out the new completely rewritten version 0.3.0 . You can download it from the master branch at GitHub . It is still in beta but i would call it fairly stable already. Please note, that 0.3.0 is not backward compatible with 0.2.8. Please also see the README and documentation for 0.3.0. Author: Jan Sorgalla Version: 0.2.8 ( Changelog ) Download: jcarousel.tar.gz or jcarousel.zip Source Code: http://github.com/jsor/jcarousel Bugtracker: http://github.com/jsor/jcarousel/issues Licence: Dual licensed under the MIT and GPL licenses.
What is it? InnerFade is a small plugin for the jQuery-JavaScript-Library . It's designed to fade you any element inside a container in and out. These elements could be anything you want, e.g. images, list-items, divs. Simply produce your own slideshow for your portfolio or advertisings.
InnerFade with jquery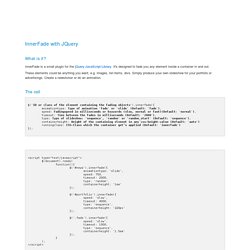 jQuery Overlay @ jQuery TOOLS - Overlay your HTML with eyecandy
JQuery Cycle Plugin
jQuery Flash / Flashembed - The future of Flash embedding