Ebooks
eBooks for eKids!
Books that everyone should read at least once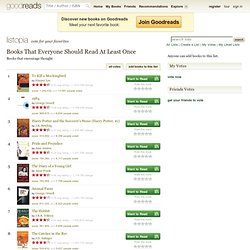 flag this list(?) Flagging a list will send it to the Goodreads Customer Care team for review. We take abuse seriously in our book lists. Only flag lists that clearly need our attention. As a general rule we do not censor any content on the site.
popular books at Reader2 library
Bestsellers
Bestsellers: The most popular items in Books
Bestseller Books, Books Online, New Books - Barnes & Noble
Best Sellers
Reading Rockets: Books and Authors
Get Caught Reading, sponsored by AAP
Welcome to Get Caught Reading, a nationwide campaign to remind people of all ages how much fun it is to read. Launched in 1999 and supported by the Association of American Publishers, GCR encourages you to order our free posters, read our newsletters, download our free videos, and join the thousands of celebrities, booksellers, teachers and librarians who continue to embrace this campaign across the country. Nick Goepper Gets Caught Reading! Hello, Get Caught Reading supporters! We're absolutely thrilled to present our latest Get Caught Reading celebrity poster, American freeskier Nick Goepper!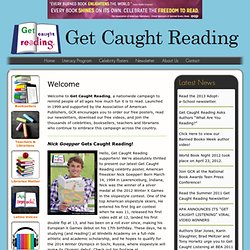 Bestsellers & Award Winners