C++
Search: Not logged in C++ Language These tutorials explain the C++ language from its basics up to the newest features introduced by C++11.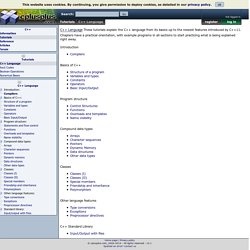 Boost provides free peer-reviewed portable C++ source libraries. We emphasize libraries that work well with the C++ Standard Library. Boost libraries are intended to be widely useful, and usable across a broad spectrum of applications. The Boost license encourages both commercial and non-commercial use. We aim to establish "existing practice" and provide reference implementations so that Boost libraries are suitable for eventual standardization. Ten Boost libraries are included in the C++ Standards Committee's Library Technical Report (TR1) and in the new C++11 Standard.
U++ is a C++ cross-platform rapid application development framework focused on programmers productivity. It includes a set of libraries (GUI, SQL, etc..), and an integrated development environment. Rapid development is achieved by the smart and aggressive use of C++ rather than through fancy code generators. In this respect, U++ competes with popular scripting languages while preserving C/C++ runtime characteristics. The U++ integrated development environment, TheIDE, introduces modular concepts to C++ programming.
Ultimate++ is a C++ cross-platform rapid application development framework :: Ultimate++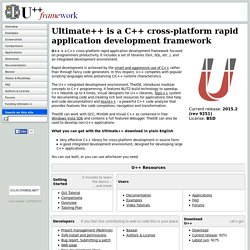 wxWidgets is a C++ library that lets developers create applications for Windows, Mac OS X, Linux and other platforms with a single code base. It has popular language bindings for Python, Perl, Ruby and many other languages, and unlike other cross-platform toolkits, wxWidgets gives applications a truly native look and feel because it uses the platform's native API rather than emulating the GUI. It's also extensive, free, open-source and mature. Featured App:Audacity More Screenshots